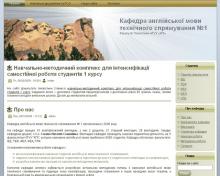 The Department of the English Language of Technical Orientation № 1 was founded in 2006.
The Department consists of 53 qualified teachers, 1 professor, including 2 associate professors, 14 senior teachers, 35 teachers. The Department is headed by Professor, Candidate of Pedagogical ScienceNatalia S. Saienko. Teachers of the department carry out scientific and pedagogical activity at 5 faculties of NTUU "KPI", teaching English to around 5500 students. The staff teach English to students of the following faculties: Energy Saving and Energy Management Institute (IEE), Heat Power Engineering Faculty (TEF), Faculty of Electronics (FEL), Electric Power Engineering and Automatics (FEA), Chemical Technology Faculty (XTF).
The main tasks of the department are aimed at:
highly qualified teaching of technical English;
providing support and training students forparticipation in students' conferences and competitions;
developing of curricula and teaching materials.
The team of the department participates in actual methodology issue development in teaching technical English and improves professional skills by training in other leading universities of Ukraine, the British Council and The English Teaching Resource Center.
The department works in close collaboration with NTUU Igor Sikorsky Kyiv Polytechnic Institute graduate departments and corresponding departments of other educational institutions. Scientific conferences are held every spring, where 3rd -4th year students present their reports on topics of their specialties in English.