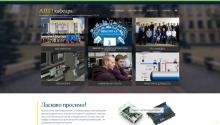 The Department was established in 1958 and is the first in Ukraine in the field of industrial automation. Today it is the leading department for training specialists required in the market of automation and software development.
The department conducts training in the specialty 151 "Automation and computer-integrated technologies".
Graduates of the department are programmers, analysts, integrators management systems in industry, in commercial sector and public utilities. Areas of automation in alternative energy, business process modeling, cloud technologies and BigData develop actively on the Department.
The chair was created in 1958 as a part of Metallurgical faculty of the KPI on the basis of the chair of metallurgy of steel on the initiative of the outstanding scientist, Academician of AS of Ukraine Dobrohotov Nikolay Nikolaevich and d.t.s., Professor Kocho Valentin Stepanovich as the chair of automation of metallurgical processes and was the first chair in Ukraine in the field of industrial automation. The head of the chair had been assigned professor V.S.Kocho. In formation of school of automation of technological processes and consumption of energy from the beginning of 50th years of the last century except Academician Dobrohotov N.N. and Professor Kocho V. S – the first head of the chair of automation of metallurgical processes, the outstanding scientist, the winner of the State Aword of the USSR, the author of fundamental books, d.t.s., Professor Yavoiskiy V.I., later- the head of the chair at the Moscow Institute of Steel and Alloys, made a lot during the first years of work at the chair.
Necessity of creation of the chair was dictated by requirements of national economy which were characterized by fast growing quantity of heat power and metallurgical aggregates, growth of their power and consumed power resources. Considerable growth of quantity of the various test equipment, control devices, and also appearance of domestic computers, suitable for control problem solving. To meet the requirements of the domestic industry in the specialists, capable to develop modern technical base, to project control systems, and also to exploit these systems competently the chair of automation of thermal processes of industrial institutions, which has been renamed into the chair of automation of heat power processes (AHPP), has been created.
In 1962 the chair passed to structure of Heat-and-Power Faculty and was oriented on training specialists on automation for power engineering, and since 1989 has been training engineers on speciality "Automation of technological processes and productions".