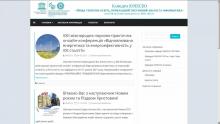 UNESCO Chair in Higher Technical Education, Applied System Analysis and Informatics at the National Technical University of Ukraine "Igor Sikorsky Kyiv Polytechnic Institute" (Igor Sikorsky Kyiv Polytechnic Institute) and Institute for Applied System Analysis (IASA) was established on the basis of the bilateral Agreement between UNESCO and NTUU"KPI" in December 1998 in accordance with the Memorandum on co-operation between the Government of Ukraine and UNESCO dt. November 18, 1997 in the framework of the International Program UNITWIN.
The UNESCO Chair has three sections:
Higher Technical Education, headed by Corresponding Member of National Academy of Sciences of Ukraine, Professor Yuriy Yakimenko
Applied System Analysis, headed by Professor Natalia Pankratova
Informatics, headed by Professor Alexander Pavlov
Organizing Sector, provided formal aspects of Chair everyday activities.
The goal of the UNESCO Chair is to undertake the Integrated Program of UNESCO Chair Development as a Research Program in the field of higher technical education, applied system analysis methods, new information technologies and their application for educational system, complex ecological, economic, social and technical systems analysis.