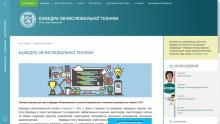 In the university for the first time in Ukraine, the training of engineers in computer science was started in September 1956 - the specialty was named "Mathematical and computational devices" (specialty code 0608). Initiative to organize a training in this new specialty emerged from the senior lecturer of automatics and telemechanics Ph.D. Samofalov Constantine Georgievich. He summarized the experience of the leading universities of the country (MEI, LETI, MVTU, MIFI) of setting the educational process, applied it to Computer Science, and personally managed the formation of a new specialty in the KPI. A large methodical and organizational work was performed (curriculum, course programs, the creation of laboratories, material resources, etc.).
Today, the Department of Computer Science is one of the leading departments of Ukraine in computer systems and networks design and hardware support.
At the Department of Computer Science a GRID system based on middleware gLite 3.1 is deployed, which is used to train students of modern IT technologies, as well as solving complex scientific and engineering problems.
The department offers training experts following qualification levels:
bachelor :
6.050102 «Computer'Engineering
6.050103 «Software Engineering»
speciality:
«Computer systems and networks »
«Software systems»
Types of studies on department - full –time and by correspondence.