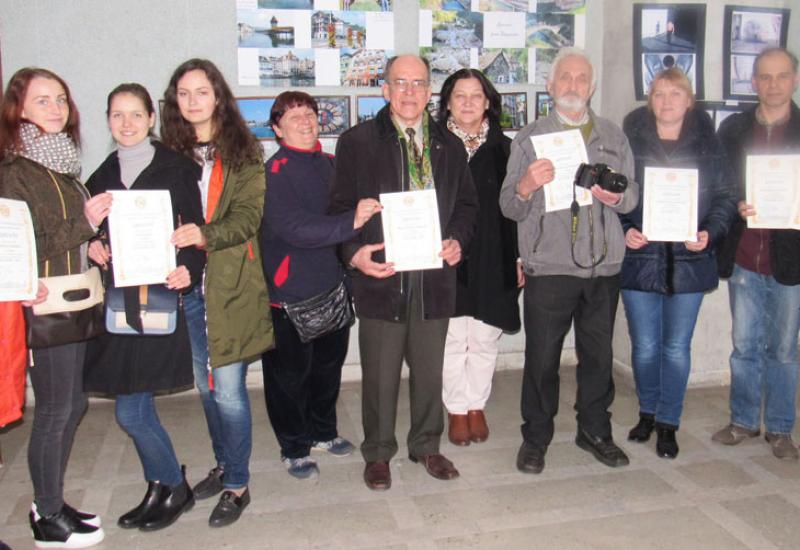 Almost 300 photos and computer graphics works created by 57 participants were presented at the II part of the "Talents KPI - 2017" artistic competition, which took place in the exhibition hall of the building № 7 on April 19. As a matter of tradition, several studios of Igor Sikorsky Kyiv Polytechnic Institute took part in the exhibition: studio "Innovation" under the direction of the senior teacher FMM Iryna Shekhovtsova, studio PBF under the leadership of Serhii Nechai and amateurs of photo art and computer graphics from the Department of Descriptive Geometry, Engineering and Computer Graphics at FMF under the leadership of the senior teacher of the Department Nataliia Parakhina.
Vice-Rector for Educational Work of Igor Sikorsky Kyiv Polytechnic Institute Petro Kyrychok presented the winners with diplomas. The rest of the contestants were given awards for participating in the competition. The jury presented the winners:
In the "Photography" nomination:
among students: 1st place - Yurii Khazanovich (PBF, PI-41); ІІ place - Alexander Galuzinskyi (PBF, ПI-41) and Maria Poliakh (FMM, UI-31); III place - Stella Marchuk (FMM, UL-61) and Olena Shyliuk (FMM, UI-51);
among teachers and staff: I place - Ihor Mikulonok, professor of the IHF and Dmitro Shpak, assistant professor of MMI; ІІ place - Oleksandr Sokolsky, assistant professor of the IHF and Oleh Kyrnytskii, leading engineer of the Department of Theoretical Electrical Engineering at FEA; ІІІ place - Nataliia Zhdanyuk, assistant of the department of the XTF and Iryna Shekhovtsova, senior teacher of the FMM.
In the "Computer Graphics"nomination:
among students: II place - Lada Zhigulina (IFF, FM-42) and Kateryna Horbachova (VPI, MV-61);
among teachers and staff: II place - Iryna Selina, senior lecturer of the Department of Descriptive Geometry, Engineering and Computer Graphics at FMF and Nataliia Kolomyichuk, senior lecturer of the Department of Descriptive Geometry, Engineering and Computer Graphics at FMF; III place - Tetyana Nadkernychna, a senior lecturer of the Department of Descriptive Geometry, Engineering and Computer Graphics at FMF, and Natalia Kolomiiets, a senior lecturer of the Department of Descriptive Geometry, Engineering and Computer Graphics at FMF