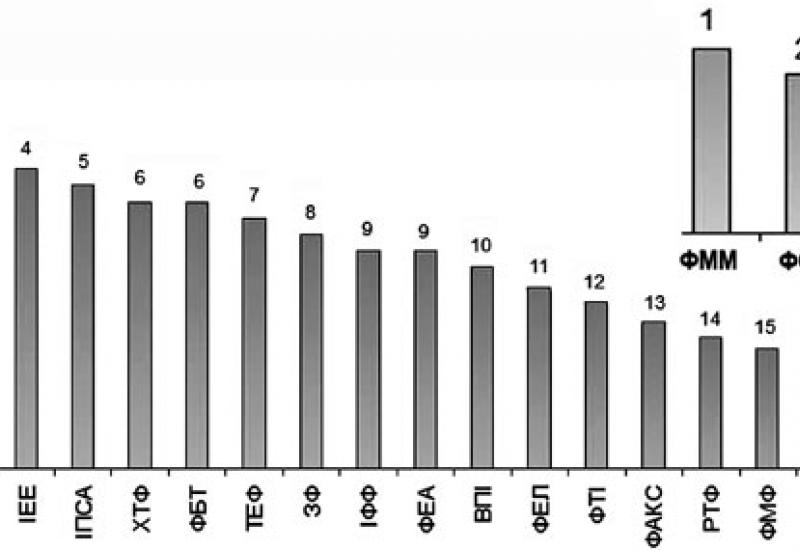 From the speech of scientific work pro-rector of NTUU "KPI" M.U. Ilchenko at Academic Senate on the 14th january 2013 р.
In 2012 р. scientific and innovational activity of our university kept on developing. We have proved our reputation of the leading university of Ukraine, being on the list of world's best universities for the second year and having kept leadership in home rating of the universities.
By two decrees of the President of Ukraine in 2012 р. three scientific communities, NTUU "KPI" staff among them, were awarded with State Prize in the branch of science and technology. Before the New Year prizes were given to our colleagues: professors G.B. Varlamov, U.P. Zaichenko (IASA) and O.I. Lysenko (ITS). Two works of our young scientists were also awarded with President prize in 2012.
Implementing the basic points of Development strategy of NTUU"KPI" for the period of 2012-2020 years, scientists of our university continued achieving considerable results, carrying out topical sci-tech tasks on the national level. Thus, on prime minister's, M.Y. Azarov, instructions, a workgroup with M.Z. Zgurovsky in the lead, have created a new redaction of draft law "About the higher education", approved by Cabinet of Ministers of Ukraine.
Our research has become a basis for the scientific justification of Cabinet of Ministers of Ukraine's edict on the 5th of september 2012 year №838 in the part of engaging of six new lines of teracycle frequency range for radio relay communication to the Plan of radio frequency resourses usage.
By direction of Cabinet of Ministers of Ukraine on the 7th of november 2012 year a Conception of creation of a Single informational-analytical system of migrational processes' management has been confirmed, which was developed by NTUU"KPI" specialists for Ukraine National migratory service.
But achieving considerable results does not mean that all problems in organisation of scientific and innovational activity have been solved. Unfortunately, there are still some problems, on the all three levels: national, sectoral, university. It is obvious from the actual data about financing of scientific activity during the last 20 years, ukrainian science isn't a national priority. According to UNESCO, nowadays financing of scientific and sci-tech activities per one scientist in Ukrane is 6 times less than in USA and Germany, 5 times less than in Japan and 1,3 times less than in Russian Federation.
Another signal of profound anxiety for the destiny of Ukrainian science and Ukraine in general is the interview with the president of National Academy of Sciences of Ukraine, academician Borys Paton and the head of the Supreme Soviet science and education Committee Lilia Grynevych, published on the 5th of January this year in the newspaper "Golos Ukrainy" under the heading "scientific work shoud become prestigious".
Thus, considering the data obtained about scientific, sci-tech and innovational acidities and concentrating on such priorities and our tasks in 2013, we should realize that we work fruitfully, as it were, "not thankfully, but in spite of"… h2>

1. Organisation of science due to the demand
Formation of scientific subject area in our university is carried out traditionally by multichannel scheme, i.e. from different sources. Total amount of financing in 2012 exceeded 70 millions hrivnas. Part of budgetary financing 30,8 millions hrivnas was 44% and it was used for doing fundamental research (57 works) and applied designs (94 works). 83 works were completed and accepted by university commissions. Scientific and sci-tech results obtained are represented in the second part of the collection "Science NTUU "KPI"". Even superficial familiarization with this results indicates their considerable scientific novelty and high scientific level.
Except the stated quantity of national budget works, a research was carried out within national sci-tech programs (IASA - head M.Z. Zgurovsky), national target sci-tech program "Nanotechnology and nanomaterials" (WF - head S.K. Fomichov), national target sci-tech program of Antarctic research in 2011-2020 (FIDE- head N.I. Burau, ITS- head M.U. Ilchenko), national target sci-tech and social program "Science in universities" (IFME- head V.B. Maxymenko).
Policy approach to organization of interfaculty researches justifies itself within six complex programs, results of which are represented in the collection. At that, as foreign experience show, it would be sensible to modernize the program "Energetics of a constant development", updating its content and changing its name into "Green Energy".
In 2012 р. the scientific functioning within so-called initiative scienctific research works activated. This works undergo state registration in the fixed order and are carried out by scientific research groups, including tutors, postgraduate and undergraduate students within tutors' worktime. 184 works have been done total, with collaboration of 1550 tutors, 200 postgraduate students and more than 1000 students.
Traditionally active for our group is economic-contractual theme, which was held last year for 92 enterprises of different forms of property. 132 themes were executed total, and 725 contracts for sci-tech services. 83 economic-contractual were executed for Kyiv enterprises.
All economic-contractual works are financed within so-called special fund, which was 39,2 millions hrivnas for the whole university. The most active executors if contractual theme were groups from FRE, IASA, ITS, IPT, IME.
One of the most important assessment criteria of budget usage for science, which is controlled by Ministry of education and science of Ukraine, is correlation between money from special fund and money from state budget. The best results (this correlation equals more than one) have seven departments: FRE, IME, IFME, FEPEA, IPT, ITS, IASA.
A special mission of science at the university, especially at the one of research type, is guaranteeing of high quality studens' training. Students, who participate directly in scientific research, have an opportunity to improve themselves as researchers. Last year the number of students, who take part in researches increased: 4521 as compared with 4113 in 2011 year. Also, the number of students who work with science for salary grew: 256 people compared with 244 in 2011 year.
For example, HaPED students, having passed a strict international selection of students' researches, first time in the history of NTUU "KPI" have taken part in the International conference on atomic engineering in Anaheim, USA. From 21 grants of the conference "ICONE-20" for European countries 5 were given to KPI masters- participates of students' works challenge in 2011, organized by NNEGC "Energoatom", in collaboration with Russian company "TVEL"..
Young university scientists, for their excellent educational activity and scientific researches, have received in 2012 year 20 President grants, 262 nominal grants and bonuses, 185 scientific works were awarded.
In 2012 184 new courses were integrated in syllabus (including 27 courses of distance education and 2 courses in English) and 171 subjects were updated. Content of three new majors has been developed.
Results of scientific researches have been applied to the modernization of the labs and seminars cycle. During the year 283 new labs have been designed and 87 practical training sessions. 31 interactive labs have been developed (virtual and with remote access). Majority of them are certified.
It should be mentioned that quantity of qualificational works implementation, done using the results of scientific researches, rises every year. During the year, using the results of scientific researches, 1814 master papers were done, 1087 specialist papers and 1318 bachelor papers total.
During 2012 year, using the results of scientific researches, 30 books were published, and 232 manuals, with Ministry of education and science of Ukraine stamp - 26 and 82 respectively, and also 123 monographs.
Large-scale integration of scientific researches and developments into content formation and providing the education of a high quality, and into creating of new technics, technologies and appliances is typical of university science and signifies its high demand. Considerable results of integration into educational process are achieved by, first of all, budget financing.
Integration of the developments into the industry and customer-enterprises' functioning mostly concerns jobs, done under contract. That's why it is essential to have both budget and economic-contractual themes.
Formation of budget theme, which is implemented through Ministry of education and science of Ukraine, has changed dramatically during the last few years, both in direction of competitive selection processes centralization and in decision making. Unfortunately, amount of budget financing of science hasn't grown during last years, quite the contrary- it has decreased due to the necessity of increasing scientists' salary at constant total amount of financing.
In publication of professor Olexander Turin from Odessa I.I. Mechnicov national university in Ukrainian technical newspaper from 25 december is told about present drawbacks with organization and financing of science in universities: "It hurts for our country… If such an approach to university science financing last and universities aren't given any independency choosing research theme on condition of basic financing, then we will have no future concerning ability to widen the cognition horizons in science and technology, to make breaktroughs. "
This situation is proved by procedure and results of latest competition of state budget themes, carried out by ministry last year. According to its results, 23 works out of 92 presented by us didn't get passing mark. In addition, we were informed by the letter from department director of Ministry of education and science of Ukraine from the 4th of January this year to pro-rectors of universities, that in 2013, according to the Law of Ukraine "About state budget for 2013" amount of financing of science and sci-tech activity in universities had been decreased by 11%. Ministry decided to provide financing of transitional sci-tech works at the level of 2012, and new scientific projects, which have passed the competition- in the amount of 58% from planned earlier. We believe that this is unfair, because, first of all, all the participants are equal to the Law, and secondly, such an approach decreases budget financing of university not by 11%, but by 21%.
Thus, for preservarion of scientific schools we have to activate functioning in the sector of economic-contractual theme. All the more, we have a good experience here and nice customs. In recent years we have activated the search and formation of propositions about new developments for departments on university administration initiative. During 2012 year, university administration held negotiations and launched work with number of agencies, enterprises and organizations.
Another example of the best work are the themes, done under guidance of professor Viacheslav Titov, who won theuniversity competition in the nomination "economic-contractual themes leader". Works, done by him, enabled to decrease by 70-80% the work content of monowheels production from aluminium composition for "Motor Sich" corporation.
University administration has searched for potentional customers for innovative production and informed scientific departments on possible users of such production. Thereby, department of science and innovations in collaboration with Science park "Kyiv polytechnic" by request of Innovative park of L. N. Gumilyov Eurasian National University (Kazakhstan) administration, initiated preparation by scientific departments of 51 scientific references, 23 of which were improved to commercial offers. The projects mentioned belong to such branches: material science, alternative energy, electonics, medical technology, high-tech mechanical engineering and instrument making, informational technologies.