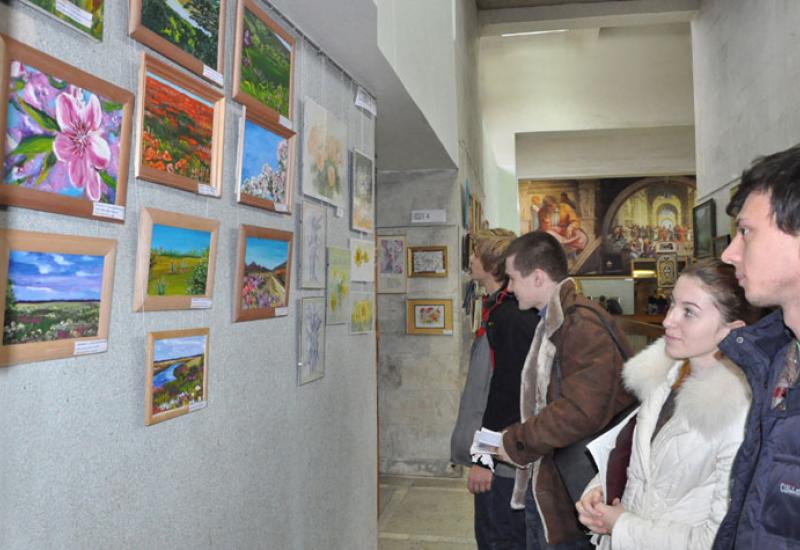 The grand opening of the first part of the annual art contest "Talents of KPI" was held on November 7, 2013 in exhibition hall of the building 7 of the National Technical University of Ukraine. Among the participants of the event were Head of The Culture and Arts Center of NTUU"KPI" Victoria Tyotkina, the head of organizational and educational office Rostislav Pashov, the head of the Institute of Publishing and Printing Petro Kyrychok, professors, staff and students of the University.
109 participants took part in the exhibition this year with 530 artworks in total. Particularly, the works performed in the genres of painting, printmaking, arts and crafts (embroidery, beaded jewelry, sewing of clothing, etc.).
The new works were presented by studio of painting and printmaking "Harmoniya" conducted by Volodymyr Veselka, the Studio "Innovatiya" of the Faculty of Management and Marketing led by Iryna Shekhovtsovs, professors and students of the Institute of Publishing and Printing , Faculty of Physics and Mathematics, alumni of KPI , the staff of the University and others. It is nice to see that the level of works is getting higher every year, and the number of them is increasing.
To experience the beauty of art and see with your own eyes the creative diversity of talents is possible till December, 12.
By Liliya Skyba
ATTENTION! The 1st part of the art competition "KPI Talents – 2013" is announced.
Works are accepted till October 29 in the following nominations:
Painting, Drawing, Sculpture,
Decorative Art, Embroidery.
For more information contact: The Centre of Culture and Arts of the NTUU "KPI",
Room 201, Picture Gallery, Tel.: 454-91-35.