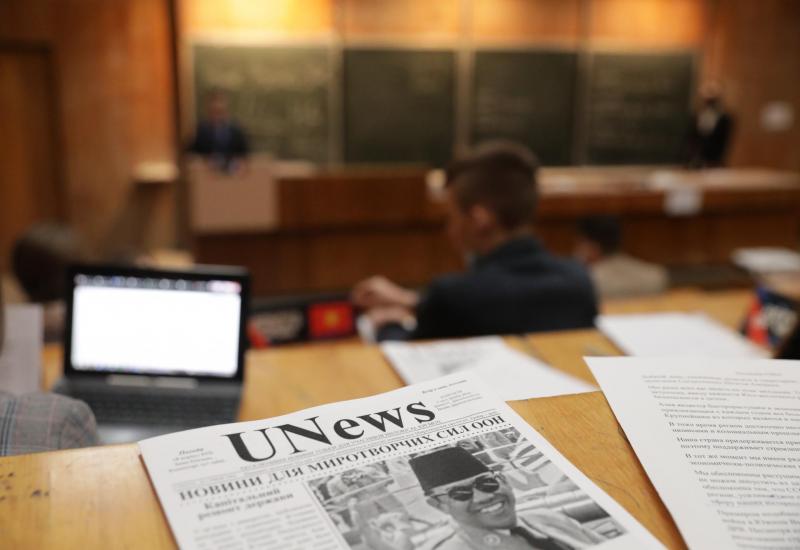 On January 22 and 23, 2022, Igor Sikorsky Kyiv Polytechnic Institute hosted a two-day UN historical model. It is a role-playing game that imitated the meetings of United Nations members. The Faculty of Informatics and Computer Engineering initiated and prepared the event. Due to the lockdown, the parties postponed the game twice - and they finally held it.
There were about 130 participants from Igor Sikorsky Kyiv Polytechnic Institute, the Institute of International Relations of Taras Shevchenko National University of Kyiv, high school students from Scandinavian Gymnasium, Naukova Zmina (Scientific Change) Lyceum, gymnasiums 136 and 167.
Model United Nations, also known as Model UN or MUN, is an educational simulation in which students can learn about history, diplomacy, international relations, and how to discuss and navigate current political issues. The game is only gaining popularity at Igor Sikorsky Kyiv Polytechnic Institute, though the organizers dream of holding it annually.
"Some schools hold MUN annually, or even several times a year. Moreover, some universities also made a tradition to organize it. We hope to keep this tradition at our University," said Kateryna Hintsheimer, Chair of the Historical KPI MUN Press Center.
Our University MUN model has its own Security Council, which is looking for ways to overcome the Cuban Missile Crisis. There is also the Disarmament Committee, which is trying to put down nuclear weapons. The International Court of Justice aims to capture a Soviet spy Rudolf Abel in Germany. The Economic and Social Council is responsible for the influence of the two superpowers on other countries, while the Peacekeepers Committee is trying to stabilize the Indochina region.
MUN has three stages. During the first stage, the delegates learn the countries they stand for and express their country's position on the issue being discussed by their committee. Stage two is debate when most MUN committees follow a dispute. Then goes stage three, which stands for writing a resolution. Each delegate offers his solutions. These documents aiming to address the issue of the committee are known as resolutions and are voted upon when deemed acceptable by the dais of the committee.
"For these two days, delegates forget their opinion and defend the position of the representative of their country. For instance, a girl with a pro-Ukrainian position in our country will defend the interests of the USSR," said one of the organizers, FICE student, and Secretary-General Oleksii Handeldy.
Most of the participants are experienced players who find like-minded people at such events and the opportunity to discuss hot topics.
"MUN gathers progressive, awesome young people who want to develop. The UN model is about acquaintances and ties that will come in handy some day. For example, I have met three best friends during the model event. We do not have the same political views, so we discuss them on the model so as not to debate in real life," said participant Anastasiia. She has participated in MUN for the 36th time.