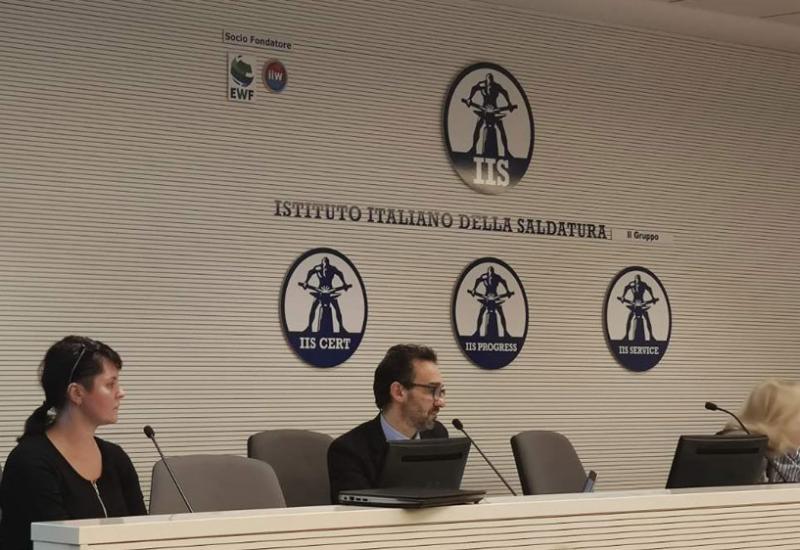 Associate Professor of the Department of Welding Machines Yevgeniya Chvertko became the first representative of Ukraine (and the second woman in the world) in the audit committee since last year which accomplishes independent verification of the certification work and training centres working under the licenses of the International Institute of Welding.
Today, the International Welding Institute unites the welding and related with this field experts from more than 50 countries. In January, Yevheniya represented Ukraine in Genoa (Italy) at a traditional International Institute of Welding meeting.
The staff of the KPI welding faculty has been working with the International Institute of Welding for 20 years. Today, the representatives of the Welding Faculty are part of 2 from 4 expert groups (one of which they head) for the certification of welding coordinators, as well as a number of working groups.
Working groups and commissions meet personally at least twice a year. This time, there were reports on higher educational establishment cooperation with the International Institute of Welding Certification Centre, that faced by female specialists in welding, on updated requirements for candidates for International Institute qualifications (in particular for coordinators of work) in view of changes in higher education in Ukraine and on the results of the six-year work of the harmonised exam development team.
In addition, on the territory of International Institute of Welding Secretariat it is gathered adult learning specialists (C-XIV Commission and Accreditation Council), standardisation and quality assurance in welding, reports to Welding in the World editorial boards and project teams, and reviews the current state of regional events with participation of the Institute: conferences, congresses, professional competitions, etc.
"The priority of any higher education institution should be to meet the requirements of employers. That is why the KPI actively cooperates with professional associations. The Faculty of Welding of the Kyiv Polytechnic is the only IIW educational centre in Ukraine based on an educational institution. For the time of its work over 100 students (all with no work experience) have been certified and twice as many have completed their studying after employment through another training centre.
The International Welding Engineer program responds to the Bachelor of Welding standard (last program released last year). Such diplomas have the largest benefits in the world with regard to the right to reduce the program of study - almost by a third. Currently, the relevant sections have been moved to the Faculty's educational programs, so from now, the shortening of the program of study will only concern those who have studied undergraduate welding. Graduates of other higher educational establishments will be trained under the full program, "said Yevheniya Chvertko.