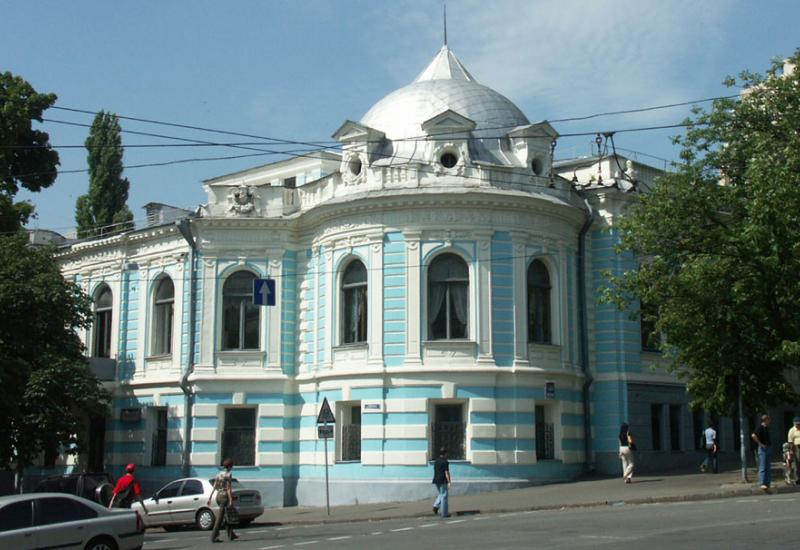 The elegant blue building on Antonovych and Tolstoi streets in Kyiv is visibly far away.
The house belonged to a family of sugar makers Tereshchenko. Its construction was completed in 1898. Unfortunately, the people of Kyiv are less aware of this building than the Tereshchenko and Khanenko mansions.
National Scientific Library of Medicine of Ukraine organizes excursions once a week. According to experts, the house was designed with all the conveniences possible at that time such as electricity, water, sewage, telephone. In local archives, researchers could not find documents related to the building. Specialists from the Museum of the Kyiv History refer to written sources from Saint Petersburg.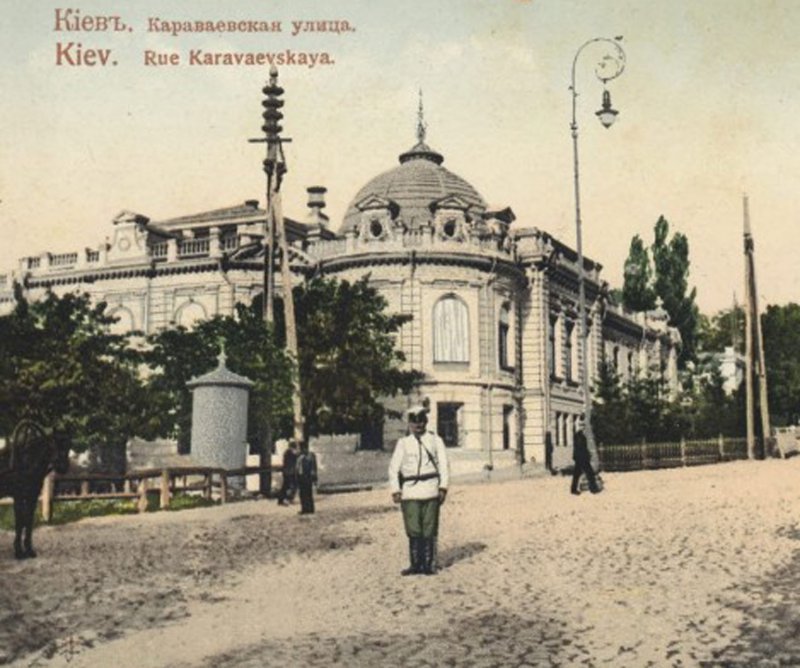 The owner of the mansion was O.N. Tereshchenko (1856-1911). The entrepreneur and benefactor lived in a mansion in 1898 -1911. After his death, the property passed into the lifetime possession of his wife and son Tereshchenko. By decision of Central Council of Ukraine, manor buildings and property were requisitioned. In 1918, the owner's family settled in four rooms in the mansion. In the remaining rooms, there were tenants. For some time in 1941-1942, in apartment number 56 of the house lived a married couple of Teliha. Olena Ivanivna Teliha (1907–1942) was a Ukrainian poetess and activist. She organized the Union of Ukrainian Writers in Kyiv, edited the literary and artistic supplement to the daily newspaper "Ukrainian Word". On February 9, 1942, she was arrested and after detention, along with other members of the Union, was shot. Her husband, Mykhailo Yakovych Teliha (1900–1942) was a forestry engineer, bandurist, public figure, confederate of the UNR Army. He was also a member of the Union of Ukrainian Engineers and Technicians who emigrated to Poland. He was shot dead with his wife.
Let's look around the house. The first impression when you get into the hall, opening the massive doors, is that the owners equipped the housing thoroughly and for a long time: a convenient layout, walls and ceiling, sheathed with wooden panels, many cupboards, patterned floor with parquet and mosaic.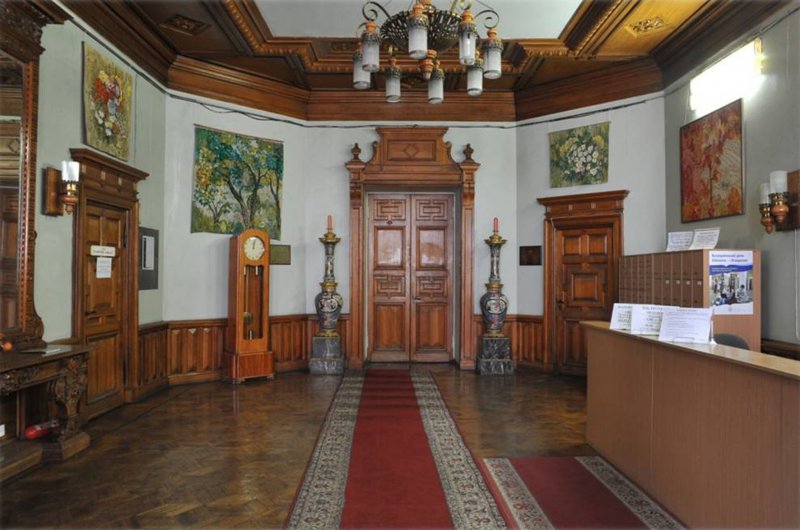 From the hall you can get into the "golden" or "green" hall (the "green" hall is located in the rounded part of the building, which is clearly visible from the street), the owner's cabinet, through the passage - into the dining room and ballroom, where gentlemen and ladies enjoyed waltzes and mazurkas. All large rooms have through passages. Living rooms were located in the inner part of the house facing the courtyard. The halls are decorated with stucco molding, that well preserved in the golden hall with excellent acoustics.
In the hall, attention is drawn to a huge Venetian mirror in a carved frame, trim elements, vases, lamps. In the cabinet located Austrian strongboxes and oak cupboard, in the dining room - lifting machines, etc. Everything is in good working order.