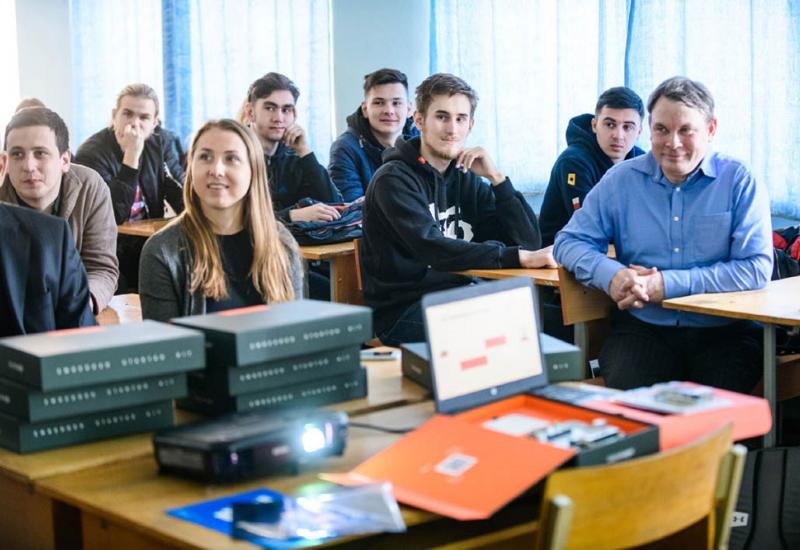 In April, 2019, at the optical and optoelectronic devices department of the Igor Sikorsky Kyiv Polytechnic Institute the significant event took place - the joint research laboratory was opened under the agreement on Kyiv Polytechnic Institute Cooperation with Global Logic. The main purpose of its creation is the practical implementation of the dual education model on the basis of higher education institutions with the leading manufacturing firms association. Not only curricular lessons will be held in the laboratory, but also lectures held by leading experts of the partner company.
Global logic company is an international software developer with staff consisted of 5 thousand members located in 8 countries around the world. Although the  head office of  the company is  in the United States, Global Logic is one of the top five largest software domestic developers.
            The company provided  the optical and optoelectronic devices department with a research class, which includes  20 computers and 20 microprocessor GL Embedded Starter Kit. The kit is based on a 32-bit ARM microcontroller with a clock rate of about 168 MHz and a debugging tool ST-LINK / V2 supplemented with the GL Extension board. It provides the most advanced conditions for mastering microcontroller programming at the highest level, as well as for the development and testing of your own devices.
            The presentation of the research laboratory was attended by Serhiy Shcherbakov - head of Ukraine Global Logic engineering department, Yevhen Sakalo - manager of universities cooperation project, Tеtiana Husar - coordinator of academic programs and partnership among Kyiv Universities. Yevhen Sakalo told about directions of main company activities  and  employment prospects for the Igor Sikorsky Kyiv Polytechnic Institute students. Serhiy Shcherbakov outlined technological aspects of the implemented projects in details, he emphasized the requirements of the modern labor market concerning students' knowledge and skills.
            Professor Valentyn Heorhiyovych Kolobrodov, head of the optical and optoelectronic devices department, noted in his speech the need of rapid adaptation of the educational process to the new world industry trends and market requirements. Once, the optical and optoelectronic devices department was the main provider of optical engineers for the USSR military-industrial complex. And nowadays the accents have changed and  graduates of the department are successfully working in leading software development companies. In particular, six graduates and students of the department work at Global Logic. Nowadays, the direction of  embedded systems development is very important, where a significant part is occupied by optoelectronic systems.
            Interested students of any faculties of the Igor Sikorsky Kyiv Polytechnic Institute are invited to work in the educational laboratory scientific club.