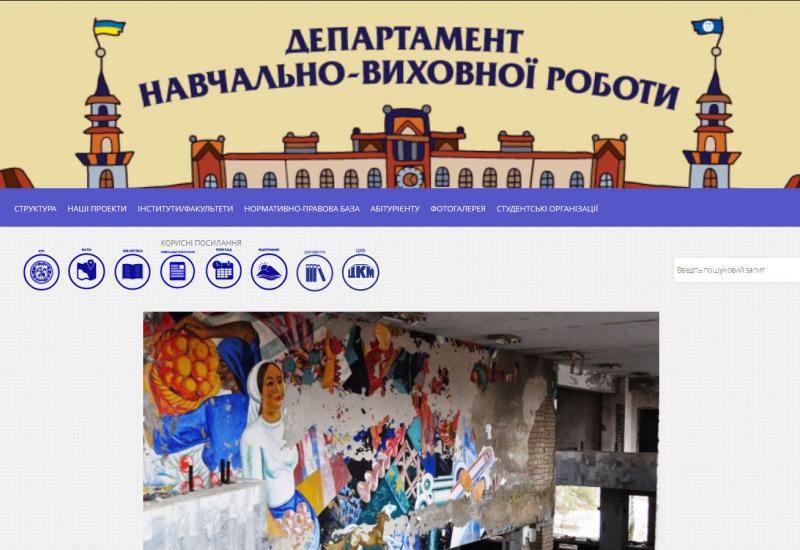 From the report of P. O. Kyrychok at the Academic Board of NTUU "KPI" as of March 14, 2016
The area of focus of Educational Department consists in educational process, scholarship security, academic mobility, social and cultural work, physical education, information space development, safety across the university, and a host of other things.  In addition, the Department coordinates the work of Civil Defence Headquarters and the work of such student organizations as student board, trade-union committee and campus student board in cooperation with the Department of Perspective Development.
Educational work
Educational work in the university in 2015 was carried out under the Law of Ukraine "On  Higher Education" and the Development Strategy of NTUU "KPI" in 2012-2020 and was aimed at finding new incentives for quality education, realization of students' academic rights and the introduction of new legislation requirements and recommendations.
Due to the socio-political situation in the country, the legislation provides the state targeted support for student participants of ATO, children of participants of ATO and refugees. At the moment, there are 360 of such students in the university (167 - ATO participants, children of ATO participants, students whose parents were killed in ATO; 193 - students who are registered as refugees). 306 of the total number of beneficiaries reside in dormitories.
However, due to lack of legislation regulated procedure of grating targeted benefits, they were realized partly (25 students in accordance with the Presidential Decree №835 of 2014 and with permission of  Ministry of Education and Science were transferred to the state-financed education). 113 of 167 students who are children of combatants and 193 refugees residing in dormitories still have to expect change.
Due to the events in the country, in 2014-2015 341 students from Crimea, Donetsk and Luhansk regions were recommended by the Ministry of Education and Science and therefore given possibility to study in NTUU "KPI". Throughout this whole period of time the Department monitored the movement of this group of students. Today 69 students who have been enrolled from Crimea study in the university, 21 were expelled during 2015.
Correspondingly, 205 out of 251 students from Donetsk and Luhansk University continue studying as of February 8, 2016.  During 2015 30 students were expelled and 16 graduated.
We can state that students were able to successfully adapt to the new learning environment.
During 2015 there were held 4 midterm examinations and 2 end-of-semester sessions. Unlike last year, in spring semester of 2014/2015 academic year midterm examinations passed without change to the schedule of the educational process.  The summer examinations were held on schedule as well. 18 250 students participated in it (2403 of which study for fee). 66.7% of university students passed the examinations on time.  It should be noted that the faculties differ significantly in terms of showings of examinations passing quality:  for some they exceed 90%, for some they don't exceed 50%.
As a result of the summer examinations 702 students were expelled (997 in total during the whole semester). Dynamics of the expelling shows a yearly increase in the number of the expelled. Most of the expelled are students of 1-2 courses. Usually mathematics and physics are among the credit modules on which students have the academic debt. This fact indicates that the applicants do not possess adequate knowledge of core subjects and it is difficult for them to master the university program.
Autumn semester of 2015/2016 academic year started according to the schedule of the educational process. According to midterm examinations, the average progress in studies was 71.8%, which is 6% more compared to the spring semester (66%).
As a result of winter examinations, 780 students were expelled.  The total amount of expelled students during the semester is 1 078, i.e. 5.4% of the total number of students who participated in the examinations. Most of the expelled are students of the 2 course.
During the last 5 years there has been an increase in the number of expelled students:   in 2014/2015 academic year 2023 students were expelled, which is 320 more than 5 years ago.
Therefore, new motivational measures have to be implemented. It appears to be appropriate to consider including the results of examination of residual knowledge into semester control system as one of the mechanisms of improving the quality of education.
As of February 1, 2016 362 international students from 46 countries studied in the university. Those are mainly citizens of Turkey, Azerbaijan, Kazakhstan, Turkmenistan, Ecuador, China and Vietnam. In general, foreign students fully master the curriculum and ultimately get a quality education.
Scholarship security
In 2015, 68,8% (12 686) students of NTUU "KPI", received scholarships.
12 169 of those students received conventional academic scholarships, which amounts to 825 UAH and 925 UAH for straight-A students; 326 orphans, disabled, low-income students and students with children received social scholarships;191 students received registered scholarships.
Academic mobility
Over the past year 193 students were sent abroad for studying or training, 48% of which went as part of a graded mobility, 36% as a part of credit mobility and 16% as a part of extracredit mobility.
In 2015, considerable attention was paid to the new EU program "Erasmus +", notably to credit mobility.   As a result of fruitful work, 29 exchange projects were created (compared to 5 ERASMUS MUNDUS projects during 2011-2016) for students, postgraduates and professors of NTUU "KPI". By May 2017, 182 students will have taken part in credit mobility.
The total amount of funding that NTUU "KPI" will receive in the form of individual grants will reach up to 800 000 euro for two years.  Educational Department collaborates with our faculties and foreign universities to increase the number of projects.
Social work
Student Social Service, which along with campus social workers conducts active social work, holds a number of social and preventive, socio-psychological, educational and charitable activities, plays an important role in the socio-psychological work of the university. Those include blood donation projects, offering consultations with professional psychologists, blood sugar level and blood pressure control program, testing for HIV and hepatitis, charity events to collect things for the poor, collecting of waste paper and a variety of campaigns to support soldiers in ATO.
Three students of our university sadly passed away in the area of ATO – Yuriy Artyukh (Faculty of Mechanical Engineering), Vadym Zherebylo (Faculty of Welding) and Vladyslav Dyusov (Faculty of Sociology and Law). During the year, in honour of our students who heroically died defending our freedom and independence two plaques were installed in the university buildings №18 and №19.
Career Development Centre, which has been functioning in the structure of the Department for more than 10 years, helps our students in search of decent jobs. Twice a year the Department holds Vacancies Fair.
In cooperation with the campus administration the Department is responsible for providing the accommodation for students and post-graduates in the dormitories.  Currently there are around 12 500 students living in dormitories.  Also great effort is being made to accommodate students to alternative types of accommodation (hostels, rooms and rental apartments).
Cultural work
Cultural work, for which our Department is also responsible, is an important part of the university life.  Art space «Vezha KPI» (KPI Tower), which is a student project and a platform for creating art projects, has attracted more than 10 000 visitors for this past year and has already become a students' favourite.
Student project «Kolizey» (Coliseum) has become a platform for holding student cultural and educational events.  By efforts of our students a student project «KPI Stina» (KPI Wall) was brought to life.
Various events are held by Students Consolidation Centre with its chess club, checkers club, Go club, intellectual games club, film club and others.
The Centre of Culture and Arts held 145 planned activities; there are 16 continuously functioning amateur talent groups. Among cultural events it should be made a pointed reference to Freshman Day, freshmen meeting with the university administration, competitions KPI Queen, Mr. KPI, humour competition «NTUU "KPI" KVK League», President's Cup. In addition, art exhibitions and talent competitions such as «KPI Talents» are continuously held in the university.
Education Organization Process
The Department is responsible for the organization of the first and second rounds of Ukrainian scientific olympiads.   In 2015, second rounds of 7 Ukrainian scientific olympiads took place in NTUU «KPI».   185 of our students took part in and 49 won Ukrainian student scientific olympiads.
In July 2015, X Lebedev and Glushkov Open International Student Programming Olympiad  «KPI-OPEN 2015» involving representatives from 5 countries.
More than 50 clubs of different areas and specializations successfully function in our faculties and institutes.
The following projects are being realized: AACIMP Summer School, open lectures involving foreign scientists, SoloWay - meetings with famous Ukrainians, The Department established cooperation with a number of foundations and research companies such as DAAD, Fulbright, Greencubator and others.
Physical education and sports
In 2015 students of the university took part in sports competitions in 32 sports – 15 Olympic sports are 17 not included in the Olympics.
Among the latter, belt wrestling, sports tourism, rock climbing, aerobics, orienteering, polyathlon, chess, kettlebell lifting, powerlifting, compound bow archery, kurash wrestling, zoorkhaneh martial arts, sambo, hand-to-hand combat, futsal are developing in our university. Master of Faculty of Mechanical Engineering Andriy Nikitchenko became a winner of the World Cup in zoorkhaneh martial arts, which took place on February 23, 2015 and came second in World Cup in belt wrestling in Minsk, on March 21, 2015. For long-standing record of his sports achievements he received a title of Honoured Master of Sports in belt wrestling.
Students of NTUU "KPI" took part in the European Championship in aerobics in  Elvas, Porugal on November 9, 2015. Kateryna Sachik, student of Radioengineering Faculty, became a bronze medallist in the national team of Ukraine. In 2015, for their sports achievements three students received a title of Master of Spots in aerobics, one student received a title of Master of Sports in orienteering.
As to kettlebell lifting, a student of Faculty of Electronics Oleh Yastreba won a Cup of Ukraine and a Ukrainian Championship among universities; a student of Faculty of Biomedical Engineering Viktor Ivakhnenko became a world champion among the youth.
There is Kyiv Polynechnic Sports Centre functioning in the university with its 7 sports clubs with more than 500 members — "Polynech-basket" (basketball), "Polytechnic" (football), "Talisman" (aerobics and fitness), "Typhoon" (hand-to-hand combat), "Hlobus" (tourism), "Atlantyda" (diving), "Rugby-Polytechnic" (rugby).
Among Olympic sports archery proved to be the most progressive. Our students took part in international competition "24 Hours" in Poland, took third personal place in Ukrainian Championship in Sumy, in Cup of Ukraine in Lviv, in Ukrainian Universiade and in Ukrainian tournament "Rizdvyani Zustrichi" (Christmas Meetings) in Kyiv, where the teem took third place. For the preparation of the athletes of the highest category in archery lecturer of the Department of Sports Oksana Dyakova received the title of "Honoured Coach of Ukraine in archery."
There are also achievements in rowing – 3rd place in the Cup of Ukraine (Dnipro, May 3-5, 2015), 2nd place in the 7th Ukrainian Summer Universiade (Dnipro, May 7, 2015).
There are winners of national and city competitions among basketball, volleyball, triathlon, orienteering and rugby teams.
There was traditionally held the Spartakiad of NTUU "KPI". The popularity of chess is growing continuously.
Public Order Maintenance Organization (POMO)
The Department coordinates the work of POMO which aims to ensure law and order in campus, the academic buildings and dormitories.  The number of POMO members amounts to 660 students and university staff. They are responsible for prevention of violations in academic buildings, dormitories and campus, providing the pass control in dormitories, carrying out inner patrolling.
During 2015, there was a slight increase in the number of violations across the university, such as theft, damage to property and committing of unlawful acts. Compared to the two previous years, the number of violations among students increased. The department processed 93 cases of grave violations, 83 of which were on alcohol consumption in dormitories.  Compared to 2008, 2010 and 2011, the number of crimes such as fighting, drug use etc. significantly decreased.
In order to improve safety across the university POMO created IT Surveillance Department.  Today 40 surveillance cameras are functioning across the campus.  In 2016 we plan to install 30 more cameras and expand IT Department and IT Surveillance Department.
24 modern radio stations were bought for POMO.
Information space
Our university has always paid particular attention to information space. Thus, the Department controls the "Kyiv Polytechnic" newspaper, press centre and the Department of Information Activity - a mass media centre with its projects "KPI Vezha", "Radio KPI" and "KPI TV".
"Kyiv Polytechnic" newspaper is known to many generations of our students for its outstanding publications.
"Radio KPI" is a student project which in 2015 was reorganized for expanding and improving the quality of the broadcast.
"KPI TV" is a student media project which aims to inform the students of university life.  Currently Radio KPI airs stories on the life of KPI, original programs, and carries out live broadcasts of important events.
In conclusion, on behalf of the Department I would like to express gratitude to the administration for the fruitful cooperation, to colleagues from other departments, to structural units of the university and to student assets. I would also like to express special gratitude to deans of our institutes and faculties for their educational work.
Only together we can overcome all the challenges and achieve the best results in the education of high-minded and highly qualified professionals.
Good luck to all of us on this honourable journey!