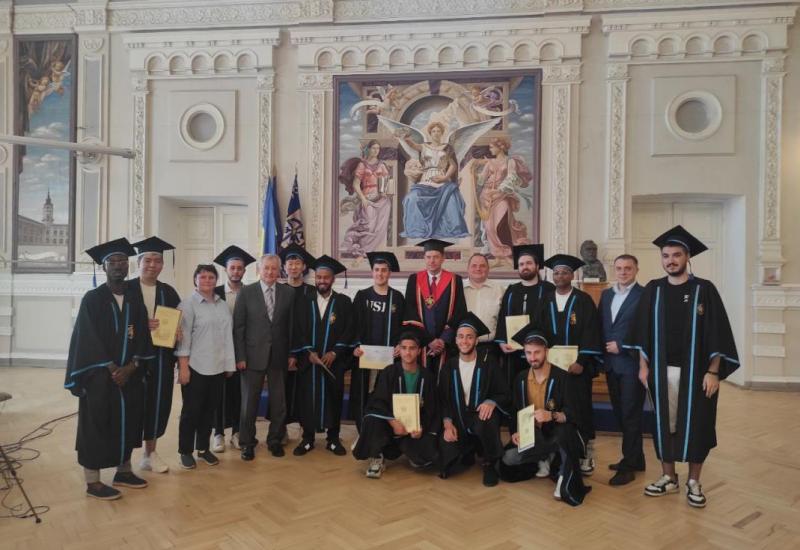 Today, the atmosphere at Hall of Academic Council of National Technical University of Ukraine "Igor Sikorsky Kyiv Polytechnic Institute" was brimming with excitement and diversity as the graduation ceremony witnessed the conclusion of studies for remarkable foreign students from Turkey, China, India, Egypt, Ghana and representatives from other 18 countries have joined online. Marking a momentous occasion for both the graduates and the university community, the event showcased the cultural richness and academic excellence brought by these global scholars. As a result, 113 foreign citizens from 23 countries completed their studies and received their European officially verified diplomas. 107 graduated with Bachelor`s degree, 6 graduates received a Master`s degree.
The exceptional academic achievements of the foreign graduates were recognized during the ceremony, highlighting their dedication, hard work, and adaptability to new environments. The presence of these international scholars not only enriched the academic landscape of Kyiv Polytechnic Institute but also enhanced the overall campus experience for all students by fostering cultural exchange and broadening perspectives.
We wish them boundless inspiration, unwavering perseverance, and realization of your both professional aspirations and creative endeavors. May their skills and talents be put to use in making a positive impact in communities and beyond.
Strive to be agents of change, leaving a lasting impression in the world.