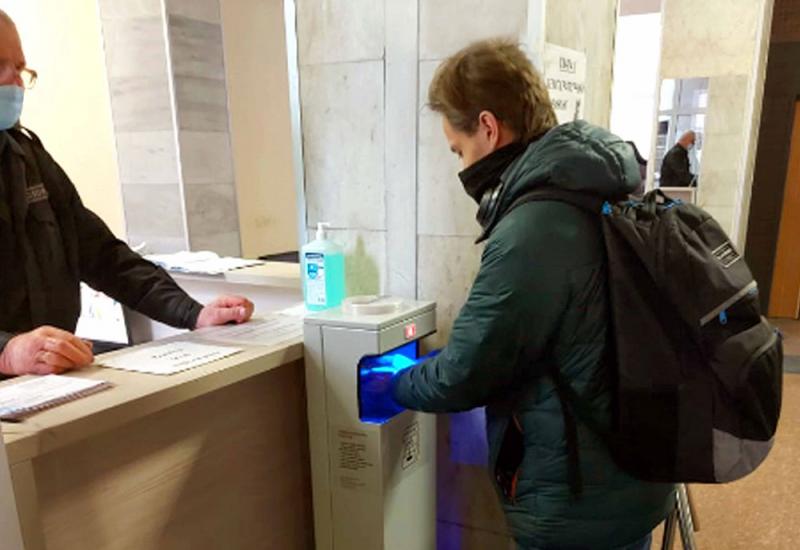 Everyone who works, studies, or appears to be in the first building of Igor Sikorsky Kyiv Polytechnic Institute has probably already used a contactless temperature meter and a disinfector. The device is installed near the entrance turnstile (see photo). It is called "Maiachok" (Tracker).
The reason for its presence at the first building is apparent. It reduces the risk of visitors' infection during the pandemic COVID-19. The same devices have already been installed at the entrances and exits of the Kyiv Central Railway Station because it remains the area of ​​increased infection due to the large flow of people. Kyiv City State Administration, Kyiv Patrol Police, the Ministry of Education and Science, the Ministry of Defense, the National Guard of Ukraine, and several Kyiv universities also already use such devices.
This non-contact dispenser for hand disinfection and temperature screening "Maiachok" has been developed by the staff of the Department of Automation of Power Processes and Systems Engineering (APPSE) of the Faculty of Heat and Power Engineering jointly with TOV "Optymum Inzhynirinh" (LLC Optimum Engineering).
Vladyslav Holets, one of the dispenser developers and a master student of the APPSE Department, says, 'We developed the dispenser unitedly with TOV "Optymum Inzhynirinh". Our SEFL KPI student design office is responsible for developing the electrical and hydraulic parts of the device. We had several basic requirements. First, the dispenser had to be reliable and fast. A person puts his hands in the hole, the device irrigates them with antiseptic, and simultaneously measures the temperature - the signal goes immediately. Secondly, it is thrift. Antiseptic overdoses cause allergies or skin irritation in adults, while in children it is generally contraindicated. Besides, solutions in Ukraine are not cheap. Our device configures a dosage of 0.5 to 5 ml. It depends on the need. We have tried several iterations of sensors and pumps to achieve fast and accurate temperature measurement and high-quality spraying. It significantly slowed the development, but we achieved an excellent result. One hand processing takes 0.5 seconds'. So Igor Sikorsky Kyiv Polytechnic Institute developers have manufactured 20 sets of electronic components of the device. Then, they sent the device details to TOV "Optymum Inzhynirinh" for further production of dispensers.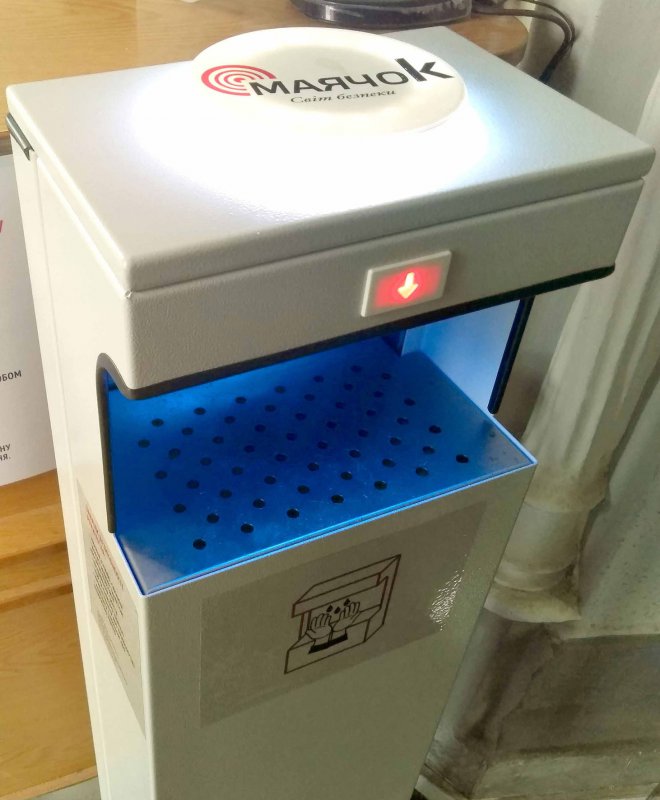 According to Vladyslav, the devices reliably perform 6-8 thousand treatments per day. Moreover, the disinfectors have been working for two months, even though the registration certificate carefully says that the guaranteed number of treatments will be 60,000.