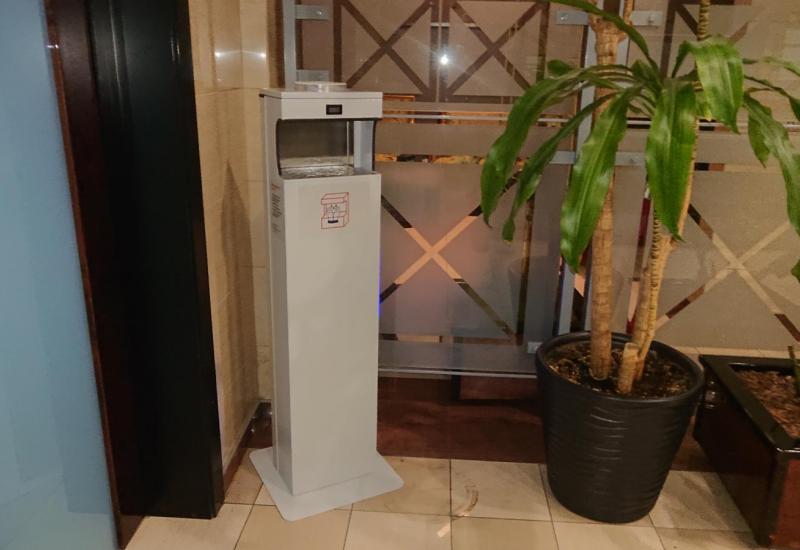 The dispenser called "Lighthouse" is a joint development of the Department of Automation of Power Processes and Systems Engineering of Kyiv Polytechnic and Optimum Engineering LLC.
The devices have already been installed at the entrances / exits to the Kyiv Central Railway Station. These are non-contact automatic dispensers that measure the temperature of passengers and at the same time disinfect their hands with an antiseptic solution. If the temperature is high, the sound and light signal turn on.
"We worked on the development for more than four months," says one of the developers of the device, a graduate student of APEPS Vladyslav Golets. - We had several basic requirements: first, the dispenser had to be reliable and fast. The person puts his hands in the hole, the device irrigates them with antiseptic, simultaneously measures the temperature - and immediately there is a signal. Secondly - it's cheap.
Overdoses of antiseptics can cause allergies or skin irritation in adults, and children are generally contraindicated. In addition, solutions in Ukraine are not cheap. Our device can be adjusted to a dosage of 0.5 to 5 ml - depending on the need."
It also solves the problem of most temperature sensors, which show the exact body temperature only if a person is in the same room with the sensor for at least half an hour, and the "Lighthouse" measures the body temperature much faster.
The dispenser is already used by the Kyiv City State Administration, the Kyiv Patrol Police, the Ministry of Education, the Ministry of Defence, the National Guard and the capital's Central Station.