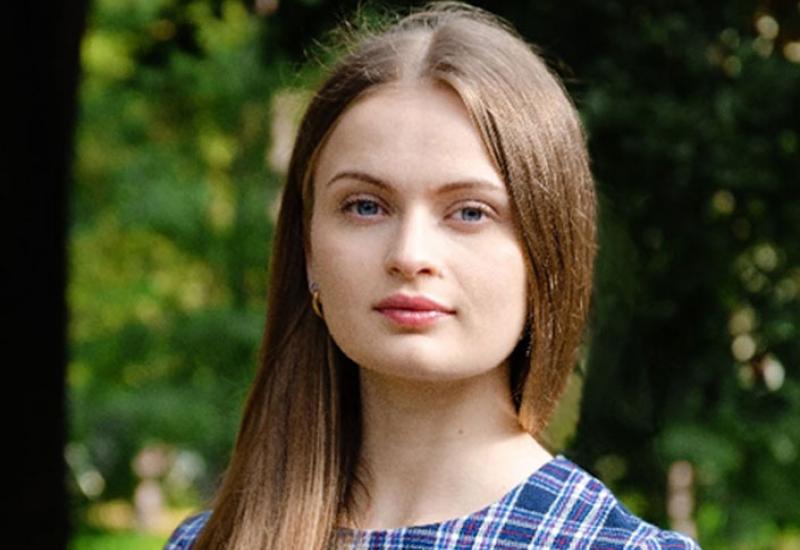 This nice girl is a scholar of the Verkhovna Rada of Ukraine Hanna Hetmanchuk. The staff of the Department of Heat Engineering and Energy Saving of the IEE, taking into account the student's significant achievements in the scientific field, considers this decision absolutely deserved.
Hanna has always been an attentive and thoughtful student, who approaches tasks creatively and systematically. Lecturers during the teaching of the main disciplines noticed her significant interest in carrying out scientific research, so from the 4th year they invited her to work in the scientific club of the department "Software systems for modeling energy processes in buildings" (its leaders are Associate Professor I.Suchodub and senior lecturer I.Bilous).
Today, Hanna is studying for a master's degree in the educational program "Energy Management and Engineering of Heat and Power Systems" and is going to get a research degree.
For three years, Hanna, under the leadership of the head of the department V.Deshko and senior lecturer I.Bilous has published three professional articles, reported research results at six international conferences and won two national competitions of student academic papers, namely:
– XVII All-Ukrainian competition "Youth to Energy of Ukraine – 2017", diploma of the I degree, theme of the work "Calculation of the rate of air exchange and its impact on the energy requirements of the building";
– The All-Ukrainian competition of student academic papers in the field of "Energetics", II audition, diploma of the I degree, the theme of the work "Climatology bases in dynamic mathematical models for determining the energy characteristics of buildings."
She is also an active student, ex-member of the student council of the IEE (information bureau).
Hanna arrived in Kyiv from the Kryvoozerskiy district of Mykolaiv. She owes her achievements in school to her parents. Her father is an entrepreneur, the mother is an obstetrician, and the younger sister is still at school. According to her, parents always helped, loved and supported their daughters. The father helped with homework, the mother taught to solve teenage conflicts wisely. In school years, Hanna took an active part in the public life of the village and the district, was a participant in academic competitions, various contests, events, celebrations and sports competitions.
The girl approached the choice of a future profession carefully and responsibly: she decided to become a qualified engineer, a specialist, whose work is important and in demand.
At the Department of Heat Engineering and Energy Saving, it has already become a good tradition to replenish the teaching staff from among the graduates – the most successful and talented students and postgraduates. We hope Hanna will have every opportunity to develop as a scientist and specialist. Therefore, we wish her every success.