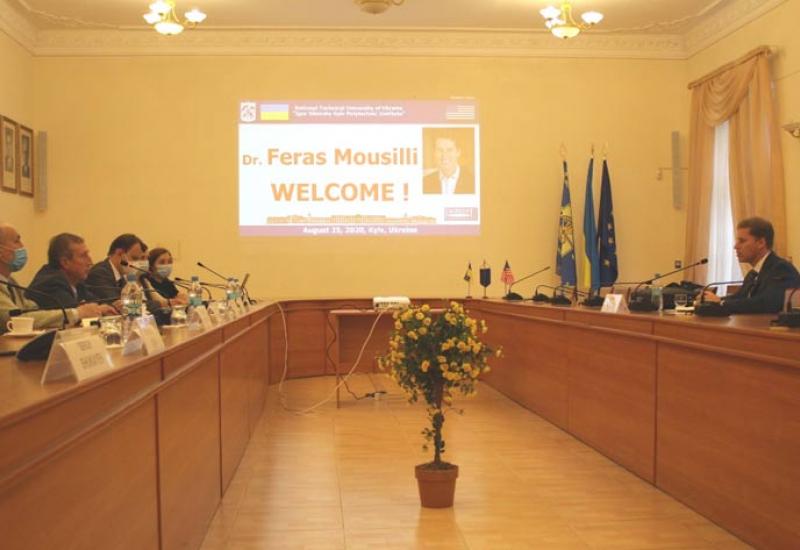 On August, 25 Igor Sikorsky Kyiv Polytechnic Institute was visited by a leading specialist at Cornell University (USA) on intellectual property Feras Mouzili.
The guest was met by the Rector of Igor Sikorsky Kyiv Polytechnic Institute, Academician of the National Academy of Sciences of Ukraine Michael Zgurovsky, Vice-Rector for Research Vitaliy Pasichnyk, Deputy Head of the Department of International Cooperation, Head of the International Projects Department Serhiy Shukayev, at. Director of the Department of Innovation and Technology Transfer Oleg Biletskyi and others.
After congratulations and presentation of the meeting participants, Vitaliy Pasichnyk made a presentation "Innovative ecosystem SikorskyChallenge as a model of high-tech economy of Ukraine", "Protection of intellectual property in Igor Sikorsky Kyiv Polytechnic Institute". There was a discussion of cooperation in the field of intellectual property and a possible visit of Feras Mouzili to KPI to give a course of lectures on the protection and management of intellectual property, as well as technology transfer.
During the visit, the guest got acquainted with the exposition of the Department of Aviation and Cosmonautics of the State Polytechnic Museum at Igor Sikorsky Kyiv Polytechnic Institute.