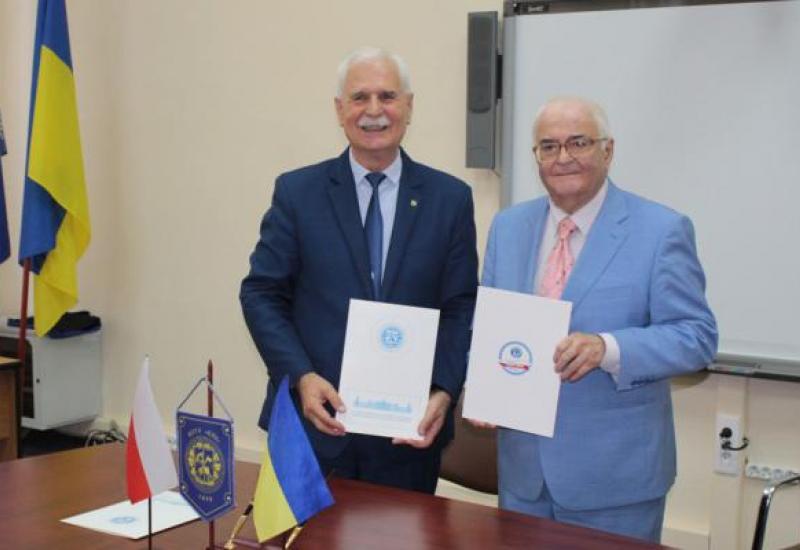 In September 6, a framework agreement was signed between Igor Sikorsky Kyiv Polytechnic Institute and the Association of Polish Electrical Engineers.
On behalf of KPI, it was signed by Serhii Sydorenko, Vice-Rector of International Relations Corresponding Member of NAS of Ukraine and from the Association — Potr Shymchak, President Professor.
The parties of the agreement decided to develop technologies jointly, especially in the field of Electrical Engineering, and innovate this field. In addition, they will cooperate in the sphere of education, research and popularization of the history of Science and Technology, especially Energy Engineering.
According to the agreement, the University will provide training of relevant specializations recommended by the Association of Individuals (under separate agreements); support the activities of Student Scientific Associations and their members, involvement of representatives of the Association of joint projects, ets.
In this turn, the Association of Polish Electrical Engineers will promote the education at Igor Sikorsky Kyiv Polytechnic Institute among  the Polish school children, organize of student and professional internship; popularize  at the national and regional levels the scientific and technological achievements of the University and encourage its organizational departments to start a cooperation; involve university representatives in projects aimed to  obtain cooperation funding and grants for the best students, winners of competitions and other individuals; support for the University's efforts in implementing jointly with Polish universities Dual Diploma Programs for faculties related to Electrical Engineering, invite university representatives to their events and conferences.
Terms of cooperation in specific programs, including the financial obligations of its participants, will be determined by separate agreements. To accomplish specific tasks, accepted by both parties, they may involve other participants, including Chambers of Commerce and Engineering Associations.
Participation in the meeting with Professor Shymchak and the signing ceremony were attended by Serhii Shukaiev, Professor, the Deputy Head of the Department of International Cooperation, Vasyl Shynkarenko, Head of the Department of Electromechanics, Faculty of Electrical Engineering and Automation, Vadym Chumak, Associate Professor of mentioned above Department, Hanna Bydniuk, Deputy Director of Ukrainian-Polish Centre of Igor Sikorsky Kyiv Polytechnic Institute and others. Potr Shymchak told his colleagues about events that had already been carried out and planned on the occasion of the centenary of the Association of Polish Electrical Engineers, which would be celebrated this year. In particular, he informed about the preparation of the Congress of Polish and Ukrainian engineers who work in the field of Energy Engineering, and invited representatives of Igor Sikorsky Kyiv Polytechnic Institute to participate in it. As part of the event (it is going to be from September 26 to 27 in Lviv) a meeting will be held about enhance of cooperation between specialists of both countries.
For reference. The Association of Polish Electrical Engineers is the largest non-governmental organization of scientific and technical specializations in the Republic of Poland. It consolidates nearly 23,000 engineers and legal entities who are interested in activities of the community.