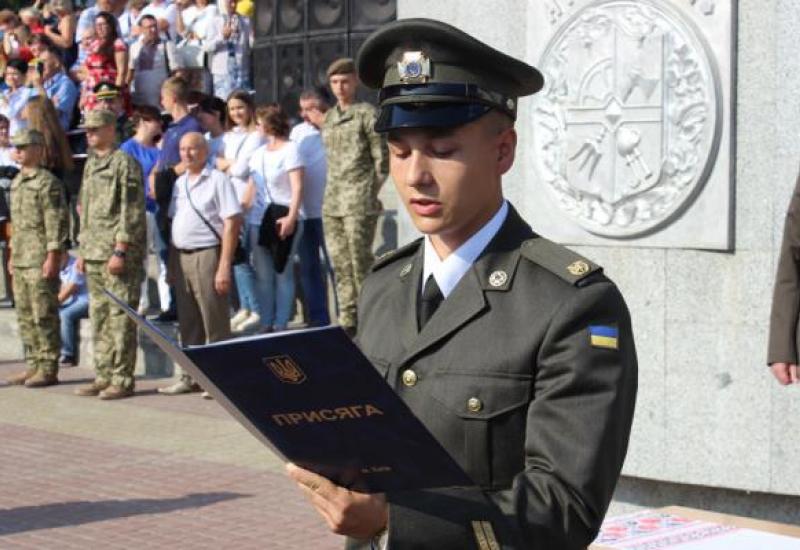 125-second course students of Institute of Special Communication and Information Security of National Technical University of Ukraine «Igor Sikorsky Kyiv Polytechnic Institute» took the Military Oath on August 31.
The solemn ritual of the military oath was held on the Square of Knowledge.
Military personnel on the University and all guests honored by a minute of silence the memory of those who died for the freedom and territorial integrity of Ukraine.
 The Head of the Institute, Colonel Alexander Puchkov congratulated second course military students with their Military Oath and the Institute with the new intake of students.
The cadets were also congratulated by Major General Oleksandr Chauzov, the First Deputy Head of the State Service for Specialized Communication and Information Security of Ukraine; Mykhailo Zgurovsky, Rector of Igor Sikorsky Kyiv Polytechnic Institute and academician of the National Academy of Sciences of Ukraine; graduated student of the Institute Oleksii Khakhliuk Deputy CEO of INTERTELECOM, and others.
Among the guests were family members of young militaries.  Ivan Maksymenko, military student`s mother Nataliia Voloshyna spoke on their behalf at the ceremony, and the military student Margaryta Lishchuk said a few greeting words on behalf of the second course students.
Mitrotar archpriest Pavlo Starodub, the rector of the Church of St. John of Ukrainian Orthodox Church of Kyiv Patriarchate, blessed the future officers and served the solemn prayer.
The ceremony of the Military Oath was completed by the solemn march of the entire staff of the Institute.