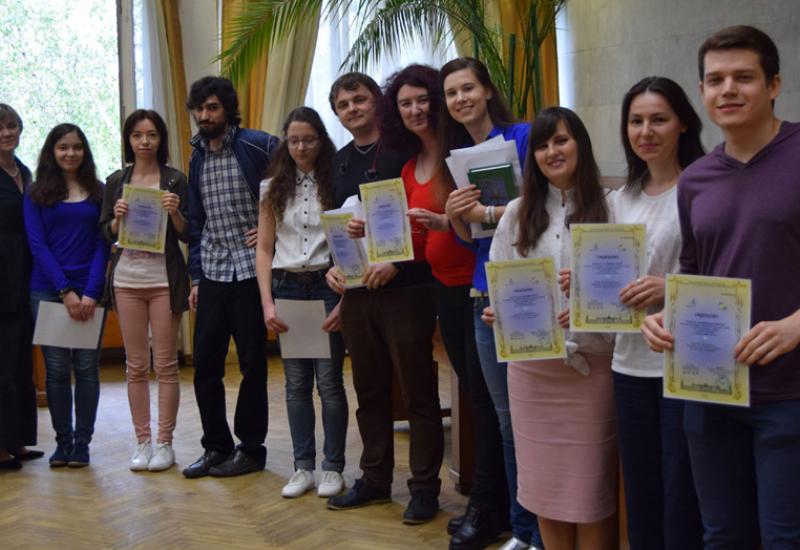 On June 23, 2018, an event was held at the Ukrainian-Japanese Center of Igor Sikorsky Kyiv Polytechnic Institute, an important event for all students and teachers of the Japanese language course – the awarding of certificates of completion of courses in the Japanese language. This is an event where you can sum up the fruitful academic year, look back and follow your own progress in learning such a complicated, but such an interesting language, Japanese.
With enthusiastic mood, the audience gathered in a large hall where they were warmly congratulated by Vice-rector of Igor Sikorsky Kyiv Polytechnic Institute Petro Kyrychok and course tutors. After that, all those who successfully passed the current exams and did not exceed the graduation limits, received certificates of completion of the course.
According to the good tradition, the most courteous listeners and those who did not miss a single class were awarded with small encouraging gifts. Certificates and gifts were presented by the Director of the Ukrainian-Japanese Center Kateryna Oleksandrivna Lugovska and expert of the Japanese Fund for the teaching of Japanese Yasunori Fujisaki. After the celebration, the festivities continued with a buffet and easy communication.
A pleasant surprise was the opportunity to taste authentic authentic Japanese dish "Kar"" by Yasunori Fujisaki, which the expert prepared himself. It was extremely enjoyable to hear the words of gratitude from the students, most of whom promised to return in the next academic year and continue their studies. Ukrainian-Japanese Center of Igor Sikorsky Kyiv Polytechnic Institute is waiting for new students and gladly invites you to study courses on the language of the Rising Sun.