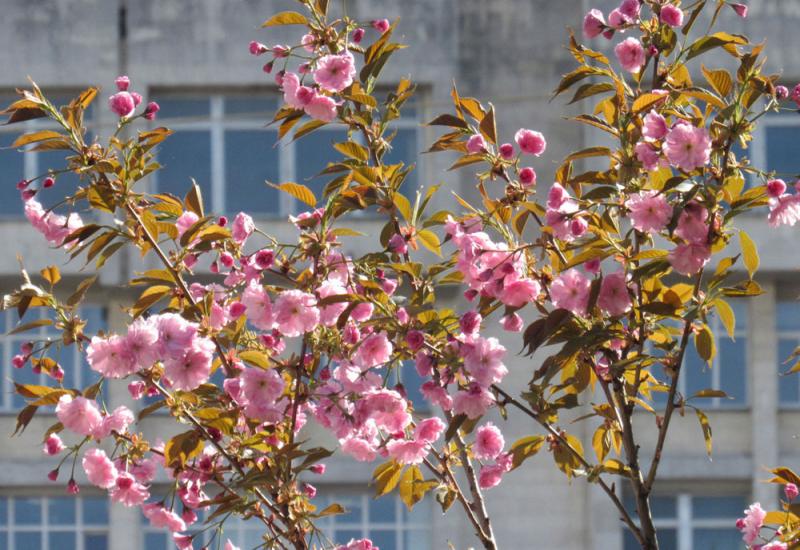 The alley of Japanese cherries has recently appeared in our campus – only a year ago. It was planted by the representatives of the university management and the educators of the capital within the framework of the program of the Year of Japan in Ukraine and the campaign of the Embassy of Japan in Ukraine "2500 Japanese cherries", dedicated to the 25th anniversary of the establishment of diplomatic relations between our countries.
On April 12th, 2017 The first ten smooth cherries gifted by Japanese government were planted on the alley near the Znan Square by Chancellor of our university, Academician of NASU Mikhaylo Zgurovsky and Minister-Counselor of the Embassy of Japan in Ukraine Michio Harada. On April 19th, six more were added to those trees: they were bought and planted by Chancellor Mikhaylo Zgurovsky, First Pro-rector Yuriy Yakymenko, Chairman of Kyiv trade union organization of workers in education and science of Ukraine Oleksandr Yatsun, a member of the Supervisory Board of Igor Sikorsky KPI, Bohdan Andriitsev, Chairman of the trade union of workers Vitaliy Molchanov and co-workers of the Ukrainian-Japanese Center of Igor Sikorsky KPI.
Japanese cherries were not accidentally chosen by the Japanese government as a present for Ukraine: these trees are one of the symbols of the Land of the Rising Sun. Moreover, the Japanese have more than a millennial tradition of admiring the blooming of Japanese cherries, which even has its own name –"hanami". Actually, the word "hanami" is almost synonymous with the word "sakura". Moreover, since 1992 in Japan, there is also an official holiday - the Cherry Blossom Day.
Last year, in a story about the planting cherries gifted by Japan, our newspaper expressed the hope that in two or three years Kyiv polytechnicians will be able to admire the beauty of the cherries blossom. However, we made a mistake: Japanese cherries of the KPI first flourished this year! And we cannot complain for it. So from now on, hanami is welcome at our university every year.