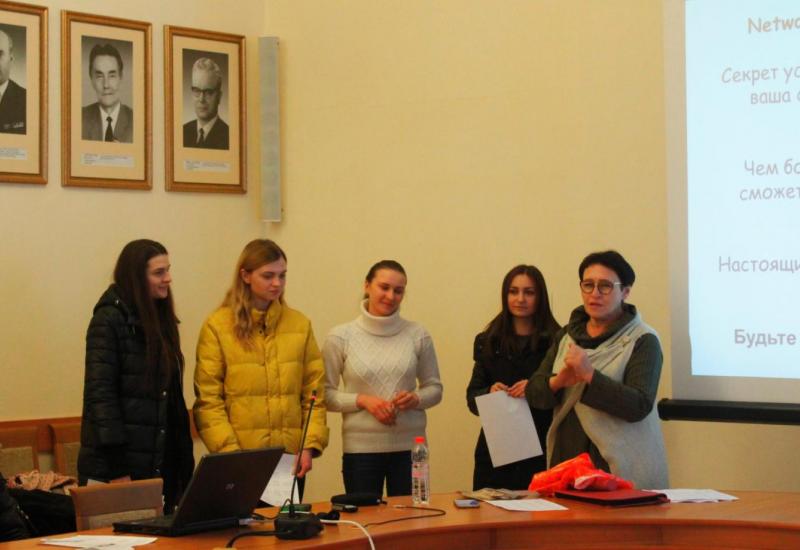 On the 1st of March 1  students and staff of Igor Sikorsky Kyiv Polytechnic Institute met the coach of the Agency for the Development of International Cooperation of the Foreign Affairs Ministry of Israel (MASHAV) and the Golda Meir Mount Carmel International Training Center (Israel) Natalia Mazor.
Natalia Mazor is a specialist in consulting for small and medium business in the field of entrepreneurship, marketing and networking — the art of creating and using effective business relationships6 who worked with government and private organizations from different countries.
The meeting was organized with the assistance of the Israeli Embassy in Ukraine, and coordinator of the Embassy Iryna Oliynyk introduced Natalia Mazor to the students and staff. Of course, the Ukrainian-Israeli Information and Education Center of Igor Sikorsky Kyiv Polytechnic Institute assisted in organization and conducting if the meeting.
The participants of the meeting expected a lecture from an experienced business coach, but Natalia Mazor did not lecture, she gave an extremely interesting and dynamic training on networking.
Among the participants of the training, which successfully combined elements of lectures, business games and live communication, were students and staff of the Faculty of Management and Marketing and the Faculty of Linguistics, as well as some other departments of the University.