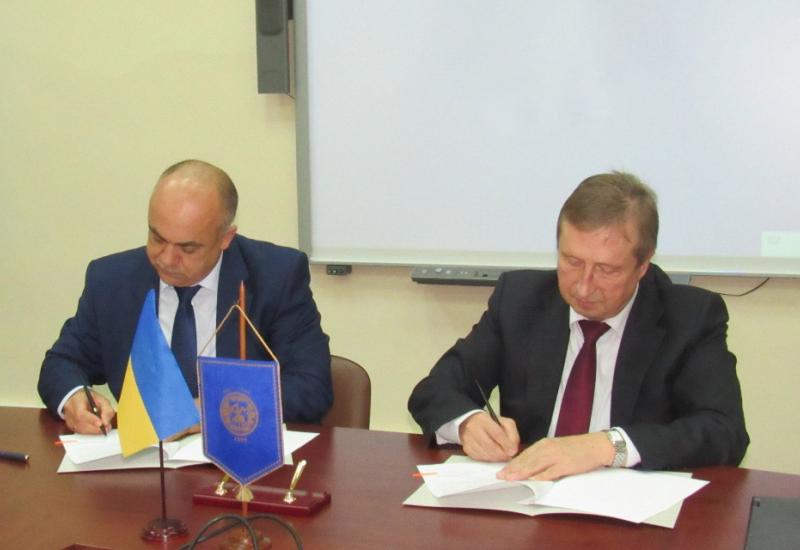 On September, 19, 2017 Igor Sikorsky Polytechnic Institute signed the agreement of cooperation with Kyiv State Experimental Prosthetics-Orthopaedic Enterprise.
Signatures on the document were put by the rector of the KPI, Academician of the National Academy of Sciences of Ukraine Michael Zgurovskyi and director of the enterprise Sergiy Strashnyi.
In addition to the first managers took the following authorities took part in the ceremony of signing: from the side of the company – the First Deputy Director Irina Vysotina, Chief Physician Yuri Soroka, Chief Technology Officer Svetlana Ermakova and Head of the Special Forces Special Forces "K" of the Security Service of Ukraine Colonel-General Volodymyr Sheremeta; the part of the university was represented by rector's assistant Victor Kamayev, dean of the biomedical engineering department Vitaliy Maksymenko and the head of the department of biosafety and human health Igor Khudetsky.
The agreement was preceded by a series of meetings and discussions on issues of academic, scientific and technical cooperation between the leaders of the Kyiv state-owned experimental prosthetic and orthopedic enterprise and the university and the leaders and teachers of the biomedical engineering department. They agreed on the development of curricula for the faculties and the establishment of a corresponding specialization in the near future at the faculty.
"There is nothing more important for our engineers and doctors than helping our servicemen who suffered serious injuries. Therefore, we must make every possible effort and give everything we can in order to do this as well as possible," said Michael Zgurovskyi before signing the document.
Therefore, during the meeting that took place before the signing ceremony, the participants once again confirmed that the cooperation will concern not only the training of specialists for the enterprises of the prosthetic-orthopedic profile (and in Ukraine there are 14 state ones), but also participation of the employees of the enterprise and attraction of scientists, engineers and the students of the university to develop highly modern prosthetics needed by the defenders of Ukraine, who suffered serious injuries in combat operations in the East.
After signing ceremony, the participants laid flowers on a memorial stand with photographs of the Kiev Polytechnicians, who gave their lives for the Independence of Ukraine.