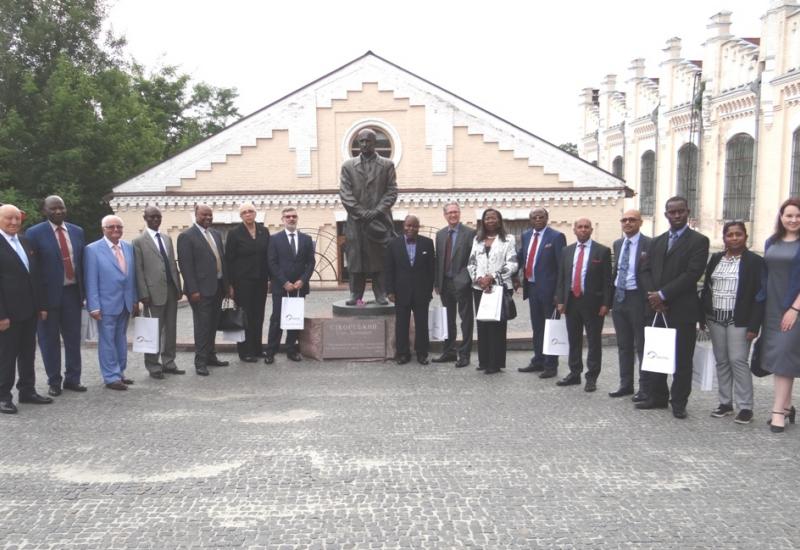 In June, 7 a delegation of ambassadors of foreign countries concurrently accredited in Ukraine visited Igor Sikorsky Kyiv polytechnic institute. The delegation consisted of heads of diplomatic missions of Republic of Rwanda, Republic of Senegal, Republic of Sri Lanka, Federal Democratic Republic of Ethiopia, Republic of Sierra Leone, Republic of Mozambique, Republic of Cote d'Ivoire, Republic of Guinea-Bissau, Republic of Singapore, Jamaica, Republic of Uruguay, New Zealand, Mongolia and the People's Republic of Bangladesh.
 Guests were accompanied by employees of Ministry of Foreign Affairs of Ukraine, Ministry of Education and Science of Ukraine and State Enterprise "Ukrainian state center of international education".     
Heads of diplomatic institutions had a chance to familiarize themselves with new developments created on the basis of enterprises that are part of Innovative and productive association "Kyiv polytechnics" and Public union "Association of defense enterprises", - unmanned aircraft 'Spectator" designed in university and is currently being produced by public company "Merydian" , armored vehicles of "Kozak" series presented by "Practice" company etc.   
Rector of Igor Sikorsky Kyiv polytechnic institute, academician of Ukrainian NAS, Mykhailo Zgurovsky, pro-rector for scientific work, academician of Ukrainin NAS, Mykhailo Ilchenko, pro-rector for international relations, correspondent member of Ukrainian NAS, Sergii Sydorenko and other fellow workers of the university had a meeting with delegation members. Acting head of State Space Agency of Ukraine Yurii Radchenko, Chairman of the Board of OJSC "Merydian" Viacheslav Protsenko, director of international affairs of public association "Association of defense enterprises",  Yuliia Vysotska took part in the meeting.
Director of Center of international education of the university, Extraordinary and Plenipotentiary Ambassador of Ukraine Volodymyr Koval presented academic basis and opportunities of National technical university of Ukraine "Igor Sikorsky Kyiv polytechnic institute" for foreign students. Yurii Radchenko spoke about potential of development of space field of Ukraine. Yuliia Vysotska delivered information about activity and export opportunities of member enterprises of "Association of defense enterprises". Besides, director of SE "Ukrainian state center of international education" Olena Shapovalova spoke about educational offers of Ukrainian educational establishments for foreign applicants and a range of services for those who are willing to study in Ukraine.
After discussion of cooperation perspective with universities and industrial enterprises of our country, delegation members also observed the alley of famous scientists whose lives and career were connected with Igor Sikorsky Kyiv polytechnic institute as well as Center of culture and art of the university.
The visit ended with regular common photo on the background of monument to Igor Sikorsky.