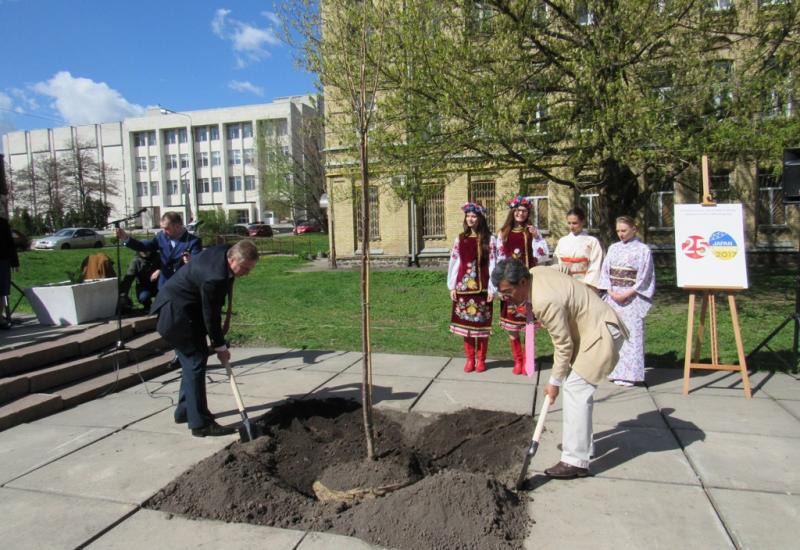 On the occasion of 25th anniversary of establishing diplomatic relations between Japan and Ukraine in terms of Year of Japan in Ukraine a sakura alley was planted onsite National technical university of Ukraine "Igor Sikorsky Kyiv polytechnic institute" on 12 April.
Igor Sikorsky Kyiv polytechnic institute became one of the participants of campaign of Japanese Embassy to Ukraine "2500 cherry trees". Cherry trees that covered thousands of kilometers from Japan to Ukraine, this year will be planted not only in Kyiv. From now on these ornamental trees will be blossoming in more than 20 cities of Ukraine – Lviv, Zolochev, Uzhhorod, Mukachevo, Ivano-Frankivsk, Chernivtsi, Khmelnytskyi, Vinnytsa, Uman, Odesa, Mykolaiev, Kherson, Henichevsk, Mariupol, Zaporizhzhia, Dnipro, Kramatorsk, Sloviansk, Sievierodonetsk, Kharkiv.
"These cherry trees is a gift not only from Japanese government but from all Japanese people, - minister- counselor of Japanese Embassy to Ukraine Michio Harada stressed, together with his colleagues he took part in sakura planting ceremony. There is a tradition in Japan to admire sakura blossoming during sakura blossoming season… And I have a dream to come back here in ten years, if still be alive and twenty years to admire sakura in Ukraine together with Rector Mykhailo Zgurivsky and KPI students".
The alley of beautiful trees that are covered with wonderful pink flowers will become a symbol of friendship between two countries. Rector of Igor Sikorsky Kyiv polytechnic institute, Mykhailo Zgurovsky spoke about that. "It is a great honor for our university to accept from the whole country this Japanese symbol, - he said. I am extremely grateful to our Japanese friends for this present. This is a part of their culture, history, a part of soul of Japanese people…"
Japanese trees have been planted near well-know Square of Knowledge along wide lane between two houses built in the early ХХth century, thus this alley will be an ornament of old university park and a campus feature of Igor Sikorsky Kyiv polytechnic institute.
The photo of Mykhailo Zgurovsky and Machio Harada planting sakura