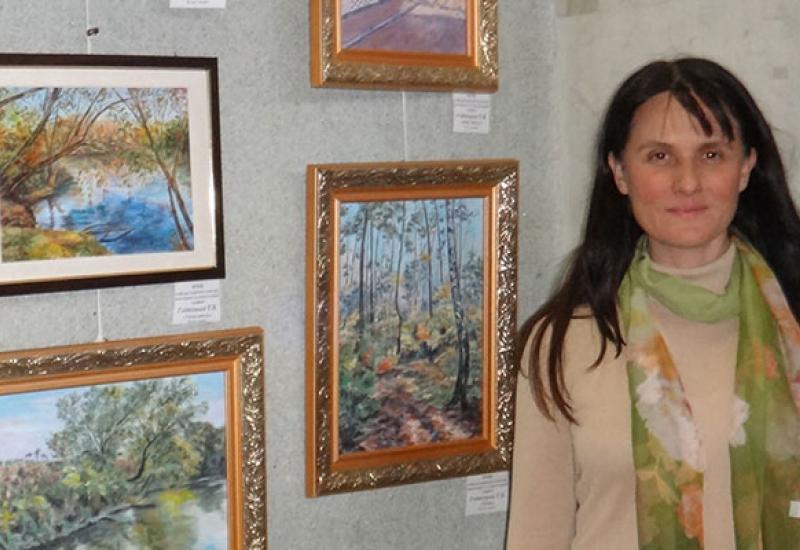 In the Art Competition "The Talents of KPI" the assistant professor of descriptive geometry and computer graphics T.V.Hnitetska's paintings were considered the best. Tetiana has been showing her works in KPI for several years. Although she has not professionally studied to be an artist, she has been never left without awards. In 2013 she got the third place in the category "Painting" in 2014 - the second, and, finally, in 2015 - the first.
Tatiana has liked the variety of colors since her childhood. In each season of year she found unique shades. She enjoyed summer particularly. Green, blue, light blue inspired her and pushed, provoked to take up the brush and paint what she saw. She gladly began to attend classes at the art studio. Her first unconfident exercises eventually acquired perfection.
Watercolor paintings from the album gradually moved to the walls of the appartment and became gifts for the friends. She mostly painted from memory. Scenic places, city sketches were her favorite topics. She hesitated for a long time before showing her works to the public. Our audience is grateful and friendly. We are glad that our lecturers and staff have such good and useful hobbies. They recreates the beauty of the world - so transparent, timid and gentle - and generously share their vision with us.
Tetiana's career also successfully develops. The Faculty of Electronics graduate, she successfully worked on several architectural and design projects. In particular, she made sketches of forged gates for the Church of St. John the Evangelist at Osokorky. This church illustrate Slavutych station on the screens in underground trains. Also, T. V. Hnitetska made sketches for Saint Trinity church built in Brovary, for which the author received the II degree of the Order of Agapetus of the Kyiv Caves from His Holiness Patriarch Volodymyr Sabodan.
 Tetiana's interest in the beauty of fractal geometry, where natural phenomena and objects are described in precise mathematical formulas, resulted in a scientific work, which she successfully defended in 2002 and which opened a new direction of ​​research in applied geometry. She had to draw a lot for the creation of interactive electronic textbook on descriptive geometry for remote education. For nearly ten years the first-year students of the university have had the opportunity of free access to the course with interactive animation. Another author's course on computer modeling T.V.Hnitetska created for seniors of the Department of Architecture and Computer Design of NAU, where she was a teacher for about seven years.
So we wish this tireless worker inspiration, grateful students and new meetings at art exhibitions.