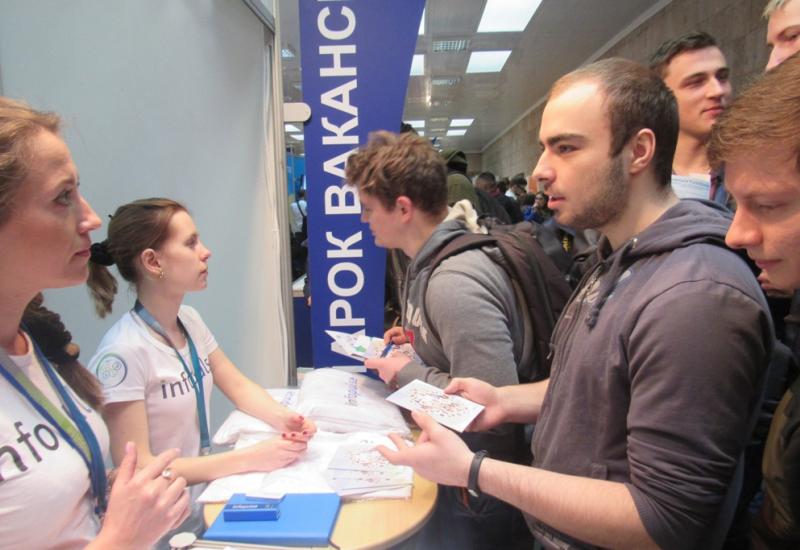 Job Fair «beAhead. Spring 2016» took place in NTUU "KPI" in April, 21. KPI students and graduates were able to familiarize themselves with the activity of introduced companies, enterprises and organizations, obtain information regarding the vacancies and open employment programs one more time.
Student had lively discussion with the representatives of more than 30 companies from various fields of activity (IT, finance and audit, TV broadcasting, telecommunication, engineering and designing etc.) as well as industrial enterprises that are part of "UkrOboronProm" conglomerate in the hall of building 18.
Among enterprises and organizations that had their stands at the fair were such well-known companies as "UA Prom", Smart Business Ltd., "Procter and Gamble", "InfopulsUkraine" Ltd, "Materialize Ukraine" Ltd, PJSC "KPMG Audit" as well as SE Scientific and technical complex "Precession mechanics plant", SE "State Construction Bureau "Luch", SE "Civil Aviation Plant 410", SE "Scientific and research institute of radiolocation systems "Quantum-radiolocation". Some of participant companies delivered presentations of their activity for potential fellow workers.
Students had a chance not only obtain information about the vacancies and requirements the employees have to meet but familiarize themselves with their representatives and obtain information about training programs and apprenticeship etc.