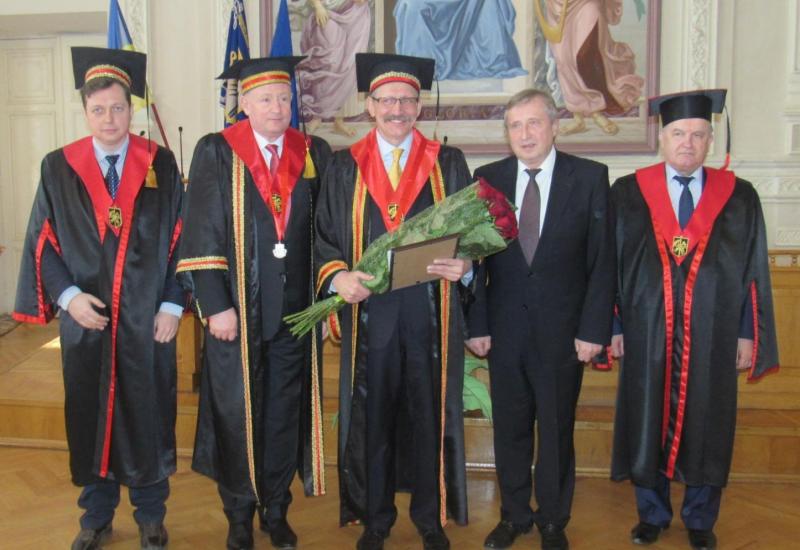 KPI academic community has expanded with two new honorable doctorates. Sergii Kravchenko, vise-president of Boeing International Company and Volodymyr Kulchytskyi, business development director at Progresstech-Ukraine, the head of board of directors, received the honors.
The diploma delivery ceremony took place in the Academic Board Hall on March, 28th.
Not only the event participants were present at the ceremony but also scientists, postgraduates and students of Mechanical and Instrumentation Institute and the Faculty of Aviation and Space Systems – KPI major educational and scientific departments that prepare future specialists for aerospace industry. Many of them have already joined the studies in common educational and scientific centers in NTUU 'KPI' and Boeing and Progresstech-Ukraine companies where potential employees are doing their apprenticeships. The centers were created with the direct participation of Sergii Kravchenko and Volodymyr Kulchytskyi. Thus, the contribution of honorable doctorates of NTUU 'KPI' into the development of the system of specialist preparation in particular direction is difficult to overestimate.
Mykhailo Zhurovskyi, a rector of NTUU 'KPI' and an academician of the National Academy of Science of Ukraine, opened the ceremony with the speech about the lives and achievements of Sergii Kravchenko and Volodymyr Kulchytskyi. Honorable Doctorate Degrees were delivered afterwards.
By tradition, the new Honorable Doctors gave lectures to all participants.
Sergii Kravchenko came up with the lecture 'Projects and processes management. Modernization and innovations in present-day production. Leadership and corporate culture. Boeing Case'. Regardless the academic name of the lecture, it was built as a conversation about the peculiarities of management in big modern business on the example of world-known organization 'Boeing' managers and its leaders.
The topic of Volodymyr Kulchytskyi's lecture was 'Intellectual services as a way to integration into international specialization of labor'. It was devoted to its great business potential in the sphere of intellectual services, particularly in the sphere of engineering service to secure GDP growth in Ukraine.
'I'm sure that collaboration with Boeing and Progresstech-Ukraine companies will provide new dynamics and new hopes in such a difficult state that out country is in,' stressed Mykhailo Zhurovskyi on finishing the meeting of Academic Board. 'We badly need that brilliant experience that was spoken about by Sergii Kravchenko and Volodymyr Kulchytskyi. So, all together we can open a new page in KPI history and development'.