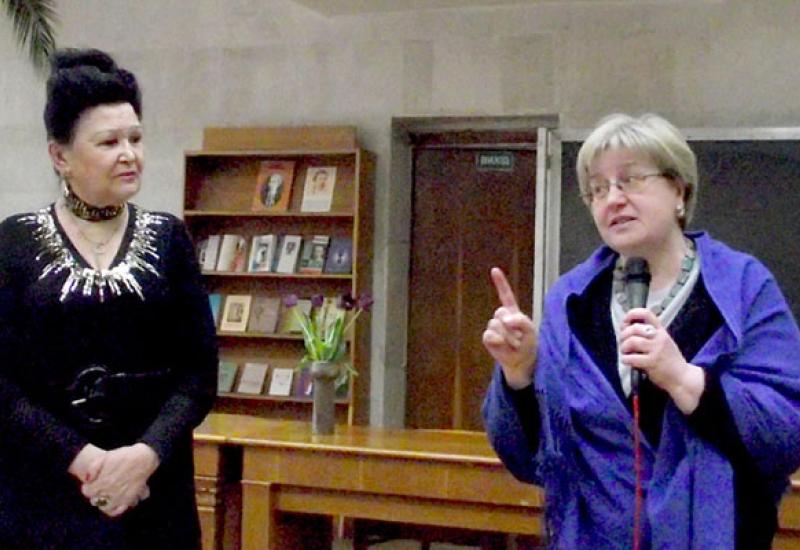 March 10 in Science and Technical Library NTUU "KPI" it was held another art evening of the series of cultural and educational events dedicated to outstanding personalities of history and culture. As we have already mentioned, such evenings were initiated and carried out with the active participation of Valentina Petrovna Sapronova. Her creative activity for many years is connected with the Kiev Polytechnic Institute.
The theme of last night was the life and work of an outstanding Ukrainian poetess Lesya Ukrainka. Of course, first of all, Valentina Petrovna told about the major milestones of the biography of the poet, brought evidence of its high intellectual level, highlighted the dramatic events in the life of Lesya Ukrainka, the story of her love.
Outstanding poetess wrote in a variety of genres: poetry, lyric poetry, epic, prose, essays. We call Lesya Ukrainka glorious Ukrainian poetess for her creativity, ardent patriotism and citizenship. She was the consistent and energetic campaigner for the fate of the Ukrainian people for its consolidation in the political nation. Crucial importance of creativity in the Lesya Ukrainka history of Ukrainian literature lies in the fact that she has enriched Ukrainian poetry with new themes and motifs, in perfect command of the various forms of construction of verse and prose works. At the turn of XIX-XX centuries, using roving stories of world literature, Lesya Ukrainka began at the forefront of the creative forces, led the Ukrainian literature in the broad arena of world literature.
Clarity and emotional story of Valentina Sapronova was successfully supplemented with slides that have been prepared by the head of the rare and valuable editions fund Marina Miroshnychenko. Valentina Petrovna during the evening read a few passages from the poems of Lesya Ukrainka, among which is this:
Yes I Do! I'll be laughing through the tears,
Among the disasters to sing songs,
I hope without hope,
I will live! Sad thoughts go away!
The theme of the next artistic evening to be held in may - "The last Hetman Kirill Razumovsky and his family."