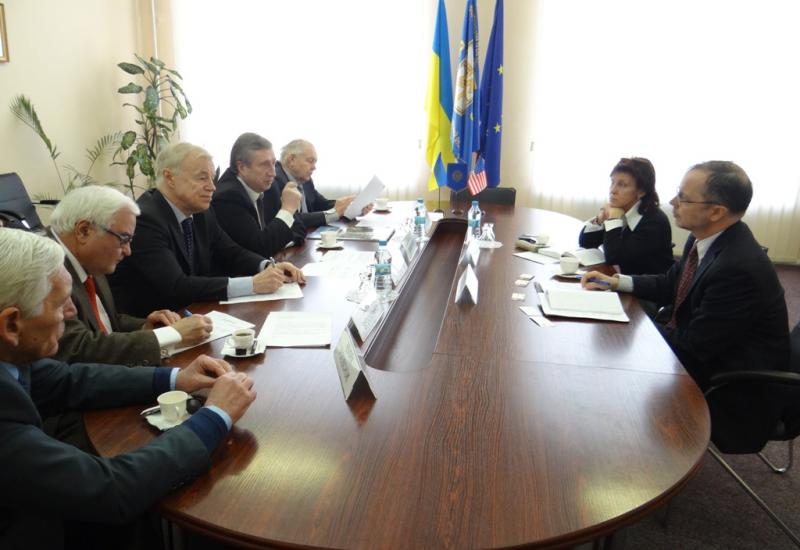 February 19,  the Adviser of the press, education and culture of the US Embassy in Ukraine Conrad Turner and the employee of the Embassy of Vera Ternavska visited National Technical University of Ukraine "Kyiv Polytechnic Institute".
The Rector of NTUU "KPI" NAS of Ukraine academician Michael Zgurovsky, Vice-Rector of the University, academician of NAS of Ukraine Yuri Yakimenko, Vice President for Research, NAS academician Mikhail Ilchenko, Vice-Rector for International Relations, corresponding member of the National Academy of Sciences of Ukraine, Sergei Sidorenko and others meet with the representatives of the US diplomatic mission.
The participants discussed some of the problems of Ukrainian scientific and educational sector and ways to overcome them. First of all they were speaking about the plagiarism, which became popular in the student and the academic community, and how to deal with it in the universities and colleges in the United States and in Ukraine.
Mikhail Ilchenko  informed the participants about the created in KPI tough but effective system of detection "borrowed thoughts and conclusions" in the thesis, and a few cases of punishment such "borrowers" and their scientific advisers. His story has been added by Yuri Yakimenko - he said that the university is preparing to introduce the system checks for plagiarism not only theses, but also students works and projects, which should start its work next year.
The keen interest of participants of the meeting was aroused by the story of Conrad Turner about  the Honesty Code, which are guided in their studies, students of many American universities. This idea seemed so fruitful that it was decided on its introduction on domestic soil, and this document should be developed with the direct participation of the students themselves.
The opportunities of the Internet were discussed separately. It provides additional opportunities for public scrutiny of student and graduate work, as it has been shown by the experience, makes the authors carefully treat their preparation and writing.
The meeting resulted in an agreement on further cooperation with the diplomatic mission of the University and the United States of involvement of the KPI in the educational seminar devoted to strategic communication, which it plans to hold in the near future.