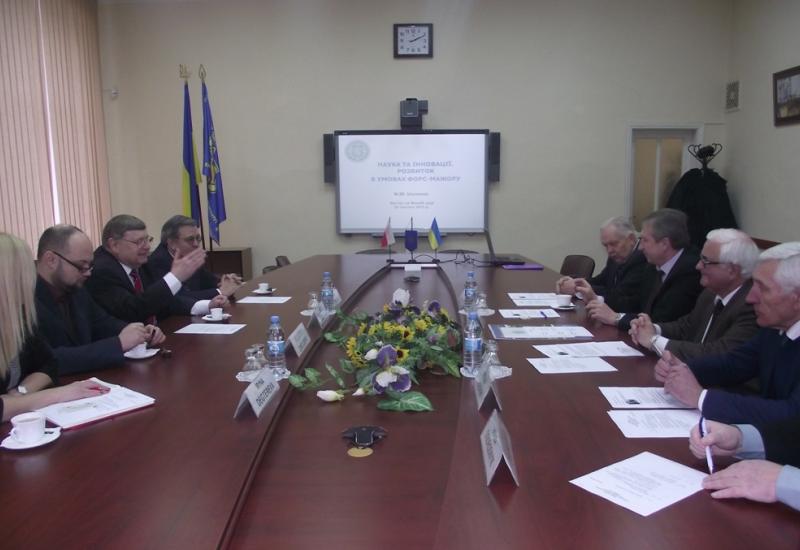 February 2, the President of the General Council of Science and Higher Education of Poland, the president of the Polish Association of Rectors, Professor Jerzy Woźnicki visited NTUU "KPI".
The guest toured the historic part of the university campus and visited the exhibition at the National Polytechnic Museum NTUU "KPI".
The meeting with a representative of the Polish teachers was attended by Rector NTUU "KPI", academician of the National Academy of Sciences of Ukraine, Michael Zgurovsky, Vice President for Research, NAS academician Mikhail Ilchenko, Vice-Rector for International Relations, Member of the National Academy of Sciences of Ukraine, Sergei Sidorenko, Head of Directorate of International links of the Department of International Cooperation Yevgeny Polishchuk and others.
Mikhail Ilchenko told about the organization of scientific work at the university, the main priority of the program and the ways in which researchers are working in the KPI, as well as the most interesting work of the past year, including those that have been awarded State Prize of Ukraine in Science and Technology (only in the last year of their winners were nine employees uinversitetu). In the discussion a particular interest Jerzy Woźnicki was caused by the innovation support system, established in the KPI, and the experience of the Scientific park "Kyiv Polytechnic" and its business incubator.
In turn, the guest spoke about the cooperation of Polish universities with European educational structures. In particular, he told his colleagues about his participation in the First Conference of the cooperation project of the Central Area of Higher Education (The project of Central European Higher Education Cooperation (CEHEC), held recently in Budapest. The project brings together universities, members of the Visegrad University Association (now its members are 50 universities from 21 countries). Jerzy Woźnicki invited NTUU "KPI", along with other Ukrainian universities to join the cooperation. The main objective of the project - the creation of a professional network of knowledge and ideas exchange, as well as mutual support in science and education, including in matters of governance, autonomy, financing, organization of research activities and the like.
In the following conversation rector KPI Michael Zgurovsky thanked the guest for the invitation, after which the participants discussed the criteria to be met by the participating universities, and some concrete steps to join the project.