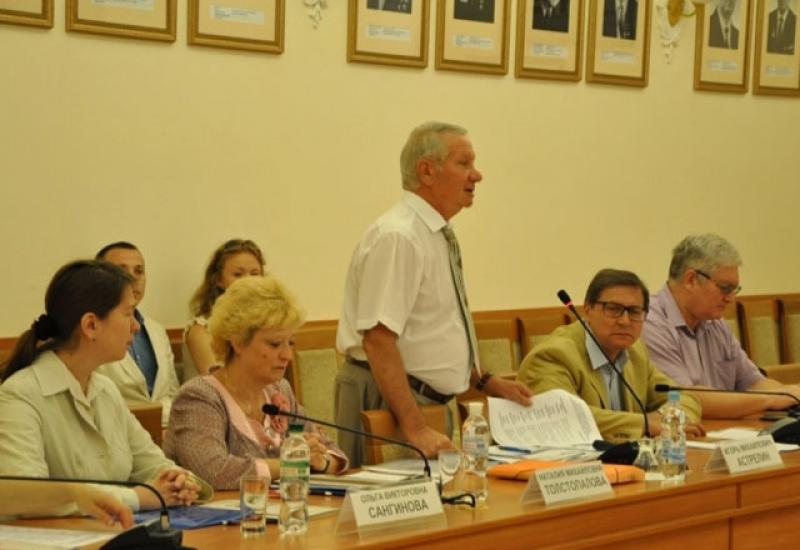 From 19 to 22 May, 2013 the members of the Norwegian-Eurasian project "Water Harmony" were at the National Technical University of Ukraine "Kyiv Polytechnic Institute" from Norway, the Republic of Belarus, Kazakhstan, Tajikistan and Ukraine.
On the 20th of May due to this visit the seminar of project was hold in "KPI". Professor Igor Astrelin the Dean of the Faculty of Chemical Technology, Project Manager "Water Harmony" held the seminar. The meeting was attended by the project manager , Dr. University of Natural Sciences ( Norway ) Harsha Ratnavira , rector of the Mining and Metallurgical Institute of Tajikistan , Project Coordinator from the Republic of Tajikistan Professor Rustam Azizov , Rector of National Higher Educational Institution " Ukrainian National Chemical Technology University " project coordinator Professor Michailj Burmistr form Ukraine, Vice-Rector from scientific work of the Belarusian National technological University , Project Coordinator from the Republic of Belarus professor Oleg Dormeshkin , head of manufacturing processes and apparatuses South Kazakhstan National University , Project Coordinator of the Republic from Kazakhstan , Professor Malik Zhekyeyev and others. NTUU "KPI" was presented at the seminar by Deputy Vice Rector, Head of Educational and organizational management professor Vladimir Timofeev, Deputy Dean of the CTF teaching work, the executive clerk officer of Project senior lecture Olga Sanhinova, deputy director of the Department of TNR and ZHT, responsible executive of project and assistant professor Natalia Tolstopalova others.
The main purpose of the Norwegian-Eurasian educational project "Water Harmony" is a scientific and educational consortium, which includes eight partner universities of Ukraine, Belarus, Tajikistan and Norway to harmonize the content and curriculum of higher chemical-technological and environmental education based on European concepts of development of innovative scientific component of education.
Faculty of Chemical Engineering of NTUU "KPI" performs this function co-coordinator of the project. The project has organized and conducted further training and academic training of teachers, masters and PhD students participating countries at the Norwegian University of Science (Oslo),and is aimed at solving the problem of maintaining a healthy environment and to obtain clean drinking water. Six graduate and postgraduate of "KPI" have took part in that internships.
One of the tasks of the project is also preparing and publishing international book of water treatment and purification technologies.
Cooperation Program of NTUU "KPI" with project "Water Harmony" harmonizes and expands the scientific content of magistracy, postgraduate and research in universities participating, strengthens scientific connection between Norwegian and Eurasian universities, and enhances the competence of universities of the counties participating etc. The program manages and finances The Norwegian Centre for International Cooperation in Higher Education through an agreement with the Ministry of Foreign Affairs of Norway.