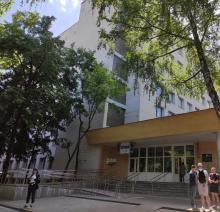 Address: Polytechnichna 25/29 st., «Politekhnichnyi Instytut» metro station High-speed tram stop "Politekhnichnyi Instytut"
PHONES:
+38,044,236 32 04
+38,044,204-95-93
+38,044,236 32 04
+38,044,236 21 81
+38,044,236 52 47
+38,044,236 59 10
+38,044,236 40 86
Working hours: Monday-Friday - 8: 00-19: 00, Saturday - 9: 00-15: 00, Sunday - closed
Calls to dormitories are accepted: Monday-Friday - 9: 00-16: 00.
Web-portal : https://studmed.itmed.org/
Facebook page: https://www.facebook.com/kyiv.stud.med/
Instagram page: https://www.instagram.com/kyiv.stud.med/
Kyiv City Student Polyclinic is a multidisciplinary medical institution that provides primary and secondary medical care for all segments of the population. After the start of the health care reform, not only students but also teachers and their families and anyone interested, such as residents of neighbouring areas or citizens working in nearby businesses, can visit the facility.
Areas of activity:
all types of medical, consultative, curing and preventive activities;
providing medical care for acute and chronic diseases, injuries, poisoning and other emergencies;
qualified examination of patients who visited the clinic;
providing medical care to the population on an outpatient basis in the clinic and at home to patients who due to the state of health and the nature of the disease can not visit the clinic;
conservative and operative treatment of patients;
restoration of reproductive health;
development, implementation and realisation of advanced treatment methods;
rehabilitation of patients with acute and chronic diseases;
consulting and diagnostic services;
timely hospitalization;
treatment of patients in a day hospital;
examination of temporary incapacity for work of patients;
issuance and renewal of sick leaves;
providing labour recommendations to patients in need of transfer to other areas of work;
referral, if necessary, of patients to the medical and social expert commission;
other.