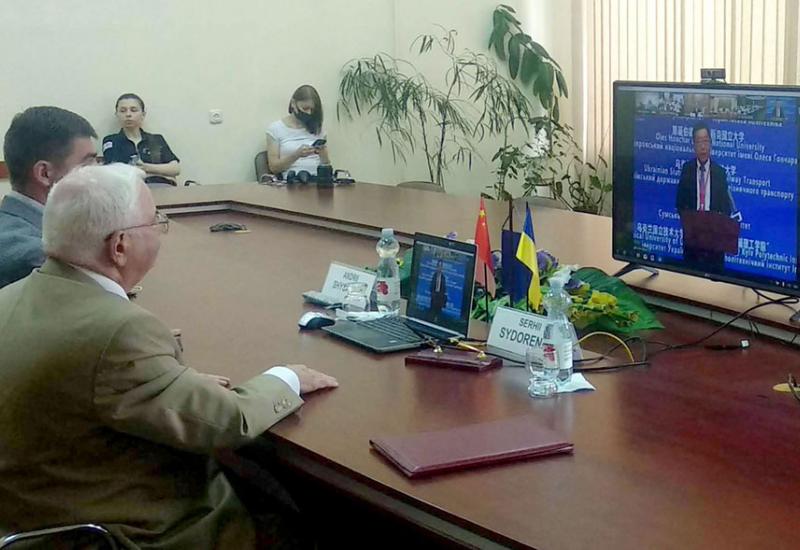 On 23 June 2021, the Sub-Committee on Education Cooperation of the Committee of Cooperation between the Ukrainian and Chinese Governments met for the fourth time. Representatives of Igor Sikorsky Kyiv Polytechnic Institute - Vice-Rector for International Relations, Corresponding Member of the National Academy of Sciences of Ukraine Serhii Sydorenko and Head of the Foreign Economic Activity Office Andrii Shysholin participated in the videoconference.
During the online meeting, the participants located in Kyiv and Chernihiv, Beijing, and Dalian (People's Republic of China) but approved the Action Plan of the Subcommittee on Education Cooperation for 2021-2023. The document provides for cooperation between the universities of China and Ukraine in priority areas. Besides, the meeting members discussed joint events between the universities of both countries to share the experience and best practices through digital educational platforms for distance learning during the pandemic. They also debated on academic mobility and language training for the next five years, etc.
In addition, the meeting members - representatives of universities, ministries, embassies of Ukraine and China - also participated in the opening of the Alliance of Ukrainian and Chinese Universities. In China, the Alliance is coordinated by the Dalian University of Technology, while in Ukraine by Chernihiv Polytechnic National University.
According to Serhii Sydorenko, Igor Sikorsky Kyiv Polytechnic Institute is the one that cooperates with Chinese universities the most compared to other higher education institutions. "We have more than 60 agreements with Chinese universities, research institutions, and industrial enterprises," he added.
At the end of the video conference Igor Sikorsky Kyiv Polytechnic Institute and the Shenyang University of Technology signed a cooperation agreement. The document ensures the strengthening of bilingual international cooperation. It also promotes and develops partnerships through education, research, and innovation. The further work includes joint training of bachelors, masters, and graduate students; sharing experience and information on methodological support of training; holding joint scientific and methodological conferences on educational areas; joint research, articles in scientific journals, and collections of scientific papers; joint conferences; exchange of postgraduate and doctoral students; carrying out activities aimed at expanding the scope of basic, exploratory and applied research with a technological focus, and others.