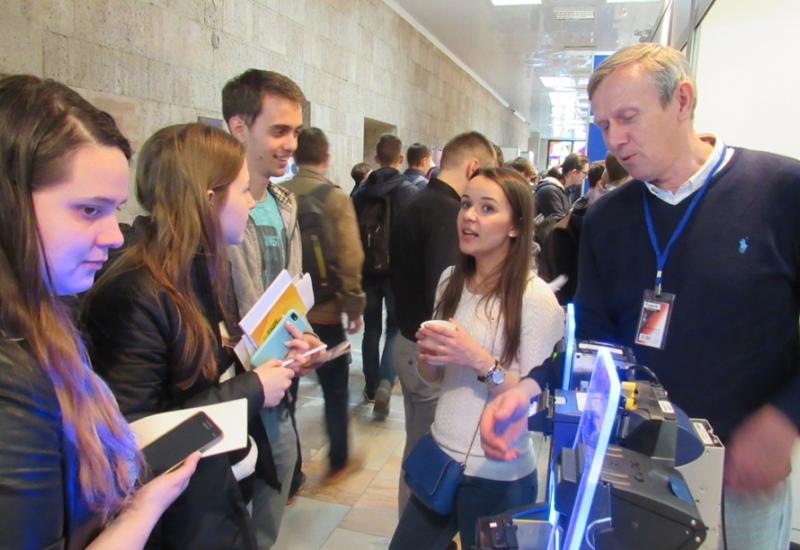 Every year, in the spring and autumn the Igor Sikorsky KPI holds a fair of vacancies. This time, a job fair called "beAhead. Spring 2018" took place on April, 19 in the building No. 18 of the university.
More than forty companies from different spheres of business - IT, finance, television, telecommunications, engineering and design, etc. (LLC TELERADIO COMPANY STUDIO 1+1, 3Shape, British American Tobacco Ukraine, Crannova, Dentsu Aegis Network Ukraine, Intetics, LifeCell, Procter & Gamble , Uhuru Corporation, Enixan Entertainment, Anchor Personnel Ukraine Ltd, DFM Virtual Service LLC, Kostal Ukraine Ltd, LLC LUN UKRAINE, SE "Melexis-Ukraine", Metro Cash & Carry Ukraine LLC, DP Roshen Confectionery Corporation, Philip Morris Ukraine PJSC and others) offered open employment programs for review, and formation of vacancy, expressed their interest in employment prospective students and young professionals.
At the official opening of the fair the speech was given by the Head of Department of Teaching and Educational Activities of the University Tetyana Khizhnyak She emphasized that this traditional event for many years caused significant interest from employers, and no less – from students. A positive feedback from HR-managers of partner companies suggests that KPI graduates demonstrate a high level of professionalism and creative approaches to solving their tasks.
As always, at the fair there was no place for the apple to fall – from the morning until the end of the day, hundreds of students and graduates of the Igor Sikorsky KPI had an opportunity to get acquainted with the activities of the represented companies and organizations, to get information on available vacancies, employment programs, internships, as well as to attend presentations of 3Shape companies, Anchor Staff Ukraine LLC, Ubisoft, Huawei, Infopulse Ukraine.
The aforementioned companies and a number of other organizations have received thanks from the Igor Sikorsky KPI for participation in the vacancy fair and assistance in solving the issues of student employment and vocational guidance work among young people.