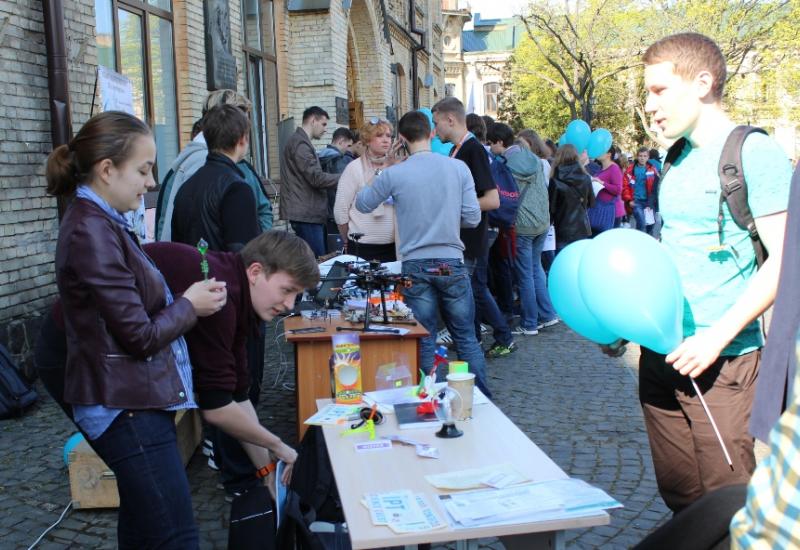 On April 21 an Open Door Day was held at Kyiv National Technical University "Igor Sikorsky Polytechnic Institute". This time it was held in the format of the science festival KPI Scince Fest under the slogan "University of Your Success".
Numerous visitors of the event, and these were mostly future students and their parents, from the very morning filled the alley and the area before entering the historic building number 1 of the university and then the building itself. They came to get acquainted with the faculties and institutes and learn about the features of the upcoming ad campaign.
The university's educational departments have opened their informational stands. This allowed the guests to communicate with the teachers and the heads of the corresponding departments and institutes of Igor Sikorsky Kyiv Polytechnic Institute and get answers to questions about training directions, practice and internships, employment opportunities for the chosen specialty, etc. So, representatives of the Mechanical Engineering Institute presented master classes where visitors were able to manage the work of Mitsubishi; get acquainted with the action of the electrohydraulic effect of Utkina, the use of which in various fields of technology opens an extremely wide perspective; find out what a 3d-scanner is and try it out in action, etc. Guests of the festival could also watch the drone flight, see the presentation of the Formula - Student KPI car, or even take part in physical and chemical experiments.
Participants of the Open Door Day got the printed materials. Moreover, this year, many interactive computer presentations of individual institutes and faculties were presented. For those who wish, a tour of the University and the State Polytechnic Museum was also organized.
Two hours after the start of the registration and review of the stands, a general meeting took place in the Large Physical Audience. They were opened by the vice-rector for scientific and pedagogical work (perspective development) of Igor Sikorsky Polytechnic Institute Oleksii Novikov. He spoke about the history and traditions of the university, about the peculiarities of learning here and about the prospects that will open up to those who decide to acquire higher education here and, of course, about the requirements for them. He also spoke about the unique opportunities for a comprehensive mastering of the chosen specialty that the University provides to all of its students.
The Deputy Executive Secretary of the Admissions Committee of the University Radmila Segol told the participants of the Open Door Day more information about conditions of entering the university in 2018. Valery Mozharovsky, Vice-Chairman of the Admissions Committee, complemented her story. He dwelt on certain questions of the procedure for admission to the university and answered the questions of future entrants and their parents. Also a workshop "ZNO without stress" was conducted by ZNOUA.
The work of Open Door Day was completed directly at the departments of the University.