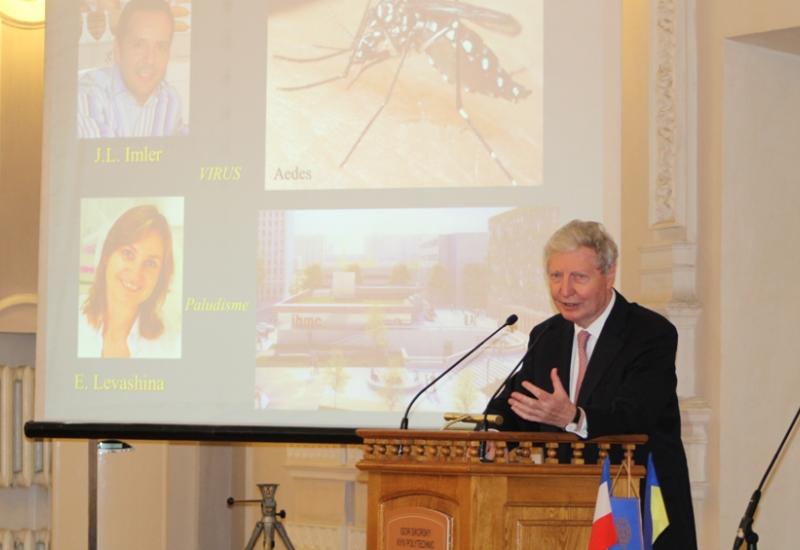 On April 19, the prominent French immunologist and cytologist, winner of the Nobel Prize in Physiology and Medicine for 2011 Jules Hoffmann delivered a lecture on "Congenital immunity: from insects to humanity" at the Igor Sikorsky KPI.
Jules Hoffmann received his prize for the study of the activation of congenital immunity, the results of which open the possibilities to overcome the most severe diseases. He is currently a member of the French Academy, the German Academy of Naturalists "Leopoldin", the French Academy of Sciences, the European Academy, the National Academy of Sciences of the United States, the American Academy of Arts and Sciences.
His visit to Ukraine took place within the framework of the project "Lectures of the Future", and a speech at the Kyiv Polytechnic was organized by the Small Academy of Sciences of Ukraine. Therefore, in the hall of the Academic Council of the University, there were many students and scientists (not only from the KPI, but also from other Kyiv universities and research institutes), but also high school pupils.  The introduction was delivered by the rector of Igor Sikorsky KPI, Academician of the National Academy of Sciences of Ukraine Michael Zgurovskyi.
The lecture by Jules Hoffmann was devoted to the complex issues of the interaction of congenital and acquired (adaptive) immunities, the mechanisms of activation of the first and the development of the second, as well as the history of their research. Understanding the patterns of work of two types of immunity allows finding new, effective ways to treat the most terrible diseases of mankind, including cancer and therefore they are extremely important. The study of these processes is carried out on the Drosophila flies, which have already served a lot and will continue to serve science as experimental organisms.
At last Jules Hoffmann talked to the listeners who expressed his gratitude and asked questions. Incidentally, among the questions were not only special and tangent to the theme of the lecture, but also those relating to his outlook. For example, one of the participants in the meeting asked the scientist about his attitude to questions of faith, to which he replied that despite the profound religiousness of his family, he considered himself an agnostic …