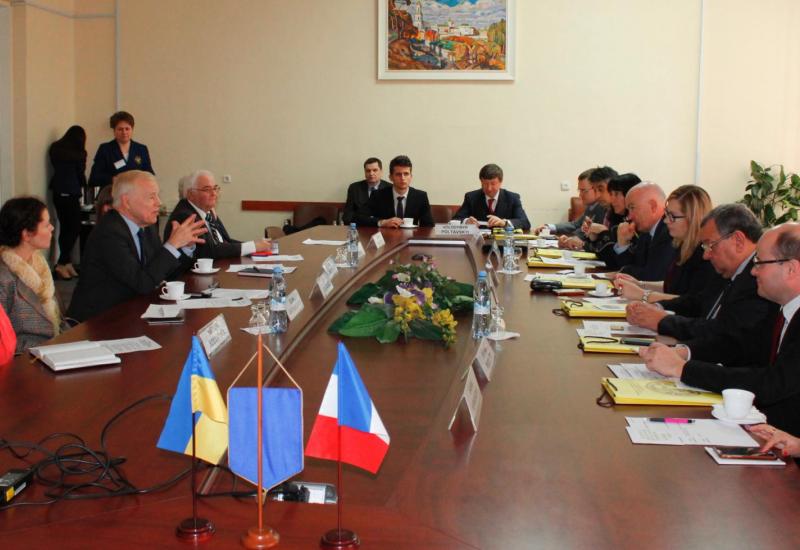 On April, 6 the delegation of members of the National Assembly (Lower House of Parliament) of France – members of the Parliamentary Friendship Group "France-Ukraine" visited Igor Sikorsky KPI.
The delegation included the chairman of the France-Ukraine Friendship Group Valerie For-Muntean, deputy chairmen and members of the Group Jean-Claude Leclabar, Marc Le Fur and Laurence Trastur-Isnar, as well as Frederic Teière, head of the international affairs department of the French National Assembly. They were accompanied by an attaché from the university and scientific collaboration of the French Embassy in Ukraine, Silvigne Rigole, staff members of the Verkhovna Rada of Ukraine Secretariat and the assistants of People's Deputy Oleksiy Goncharenko.
Visitors visited the memorial plaques in the historic building No. 1 of the University, the Museum Square, the Avenue of outstanding scientists and designers, whose life and activities were connected with the KPI, became acquainted with the exhibition of the State Polytechnic Museum and its Department of Aviation and Cosmonautics named after Igor Sikorsky.
After a tour the first vice-rector of the Igor Sikorsky KPI, Academician of the National Academy of Sciences of Ukraine Yuriy Yakymenko, Vice-Rector for International Relations Corresponding Member of the National Academy of Sciences of Ukraine Serhiy Sidorenko, Deputy Head of the Department of International Affairs Yevhen Polischuk, staff of the Ukrainian-French Center of the University and others met with French parliamentarians. The participants of the meeting discussed a number of issues of cooperation between the KPI and French universities, the participation of Kyiv Polytechnicians in joint educational programs and the prospects of expanding such cooperation. In particular, questions were raised about deepening cooperation in the areas of IT technologies, electronics, and others. Finally, representatives of the Lower House of the French Parliament received disks with detailed information about the university, its departments and institutes, as well as the cooperation of Igor Sikorsky KPI with French universities and research centers.