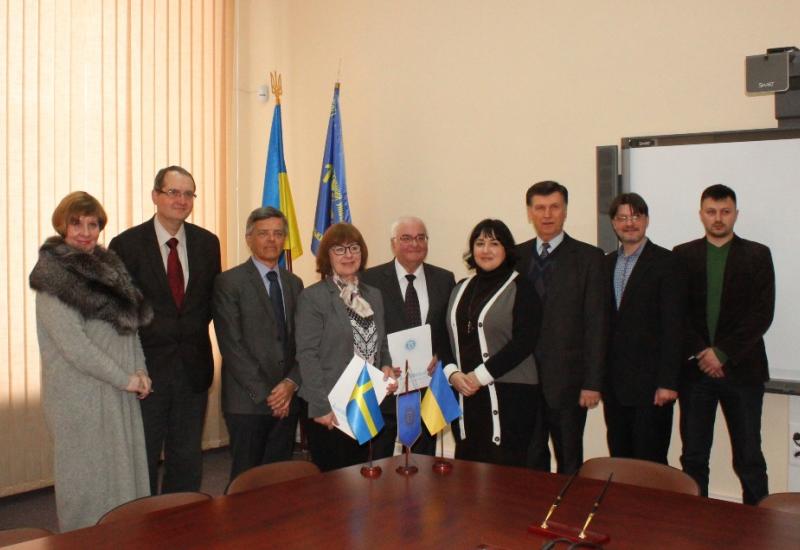 On February 21 Igor Sikorsky Kyiv Polytechnic Institute signed a Protocol on Nuclear Security Cooperation with the Swedish Radiation Safety Organization.
Before the signing ceremony there was an exchange of information on the activities of organizations - participants in the negotiations and discussion of the directions and forms of cooperation. Participation in the discussion was taken by the project manager of the Department of International Relations Sarmit Andersson of the Swedish Radiation Safety Organization, the nuclear safety expert Stick Isaakson, the vice-rector for International Affairs of Igor Sikorsky Kyiv Polytechnic Institute a Corresponding Member of the National Academy of Sciences of Ukraine Serhiy Sydorenko, the dean of the Heat and Power Faculty Yevhen Pysmenny, the chief specialist in the sector of physical protection of the nuclear energy complex of the Department of Nuclear Energy and Atomic Industry of the Ministry of Energy and Coal Industry of Ukraine Natalia Klos and others.
The document provides for the implementation of joint initial and research projects (courses and trainings for students, summer schools, support of the material and technical base of Igor Sikorsky Kyiv Polytechnic Institute, including the creation of research laboratories, participation in domestic and international events on nuclear safety and security, etc.). ) Specific cooperation programs in the educational, research and development areas will be defined by separate agreements. The protocol stipulates that participation in some events on the Ukrainian side will be taken not only by Igor Sikorsky Kyiv Polytechnic Institute but also by other organizations working in the field of nuclear safety (in such cases the university can assume organizational support). In addition, projects that participants will collaborate with may go beyond nuclear safety and cover issues related to nuclear waste management, radiation protection issues, and others.
The parties also agreed that other universities of Ukraine and the Black Sea region, working in the relevant fields, will be involved in cooperation, when it is possible.
In the photo: participants of the negotiations and signing ceremony