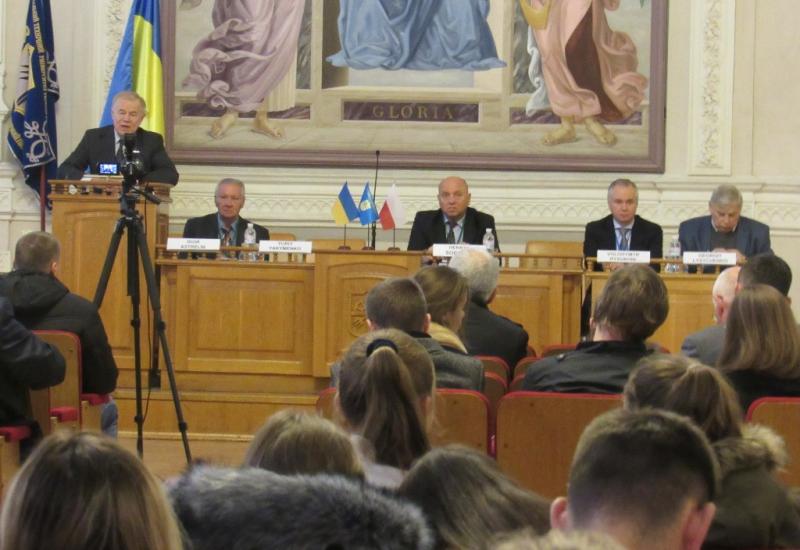 In October, 26, IV International scientific and practical conference "Pure water. Fundamental, applied and industrial aspects" started its work in NTUU "Igor Sikorsky KPI".
The conference is devoted to the relevant problems of potable water, purification of waste water and other fundamental, applied and industrial problems.
Moderators of the conference are National technical university of Ukraine "Igor Sikorsky Kyiv polytechnic institute", Representation office of Polish Academy of science in Kyiv city, National Academy of Science of Ukraine, department of UNESCO " Higher technical education, applied system analysis and informatics", Scientific Park "Kyiv polytechnics", Ukrainian and Polish center at NTUU "Igor Sikorsky KPI", State university "Lublin polytechnics" (Lublin city, The Republic of Poland), Association of ecologic chemistry and engineering (Lublin city, the Republic of Poland), "Nature technologies" Ltd.
First pro-rector of NTUU "Igor Sikorsky KPI", academician of Ukrainian NAS, Yurii Yakymenko; dean of Chemical and Technological Department of NTUU "Igor Sikorsky KPI", Igor Astrelin; the manager of Representation office of Polish Academy of Science in Kyiv, Henrich Sobchuk; director of the Institute of environment geochemistry of Ukrainian NAS, George Lysychenko; general director of "Nature technologies" Ltd, Volodymyr Rysuhin delivere their speeches at the official ceremony opening.
First plenary session of the conference started with the presentations that are the vivid examples of the topicality of the conference, they are: "Water resources state of Dnieper river: problems and keys to their solution" (reporter O. H. Lysiuk), "Evolution of reversed osmosis" (T. Ye. Mitchenko), "TONAK technologies application for heavy metals and radio nuclides water purification" (H. V. Lydychenko, Yu. L. Zabulonov), "Application of modern technologies for modernization of Ukrainian water economy (V. V. Rusuhin), "Modern effective means and technologies of biological waste water purification and the prospects of their application" (L. A. Sablii), " Water conditioning for drinking purposes,," (V. I. Maksin), "Development of reagents and conditioning water technologies for resource-saving cooling systems. (M. D. Homelia).
During three days, apart from presentations discussion at the plenary session, scientists will be working according to the following lines "Technologies of natural water purification. Technical aspects of water supply", "The effect of waste water on the environment. Monitoring and forecast of natural water state in terms of intensive water consumption" and "Technologies of waste water purification, sludge neutralization, and energy and energy carriers generation. Biological and biochemical aspects".
The photo of conference participants being welcomed by first pro-rector of NTUU "Igor Sikorsky KPI", academician of Ukrainian NAS, Yurii Yakymenko.