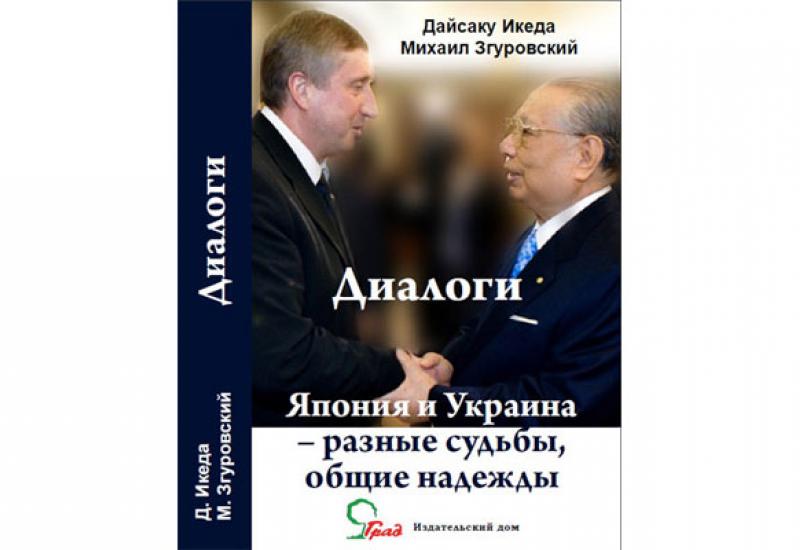 D. Ikeda, M. Zgurovsky Japan and Ukraine - different destinies, shared hopes. Dialogues. - M.: Publishing House "Grad", 2011. - 304 p. ISBN 978-966-97160-1-9
This book is co-authored by two people of different destinies, formed in different conditions and in different parts of the world, but who share very similar universal values ​​and have similar views on the prospects for the development of their people in the ensuing twenty-first century - an outstanding philosopher, humanist and public figure from Japan Daisaku Ikeda and systemic mathematics and cybernetics of Ukraine Michael Zgurovsky.
As if from different perspectives, different angles there were examined the social, political, social, governmental processes relevant to each of the two countries - Japan and Ukraine, and the world at large. This allows to help readers understand the complex intricacies of the relations of the countries and people of the modern world community, which tirelessly and consistently developing technological components, unfortunately is not progressing spiritually.
Terrorism, ethnic wars, military conflicts, criminality, separatism  are, unfortunately, confirmation of this thesis. The authors focus the attention of a reader that the twenty-first century world is on the threshold of new discoveries of human genius and the outstanding achievements of his spirit. According to them, the power of the human mind, its tolerance, spirituality - are the qualities that should prevail in the new century, through which a person is obliged to change the world in his benefit.
Preface of  the publisher
Part 1. Japan and Ukraine today

Dialogue 1. Nation and Culture
Dialogue 2. The country at the crossroads of civilization and a country surrounded by seas
Dialogue 3. Literature and World

Part 2. The Dream of the new Ukraine

Dialogue 4. Society and Religion in Japan and Ukraine
Dialogue 5. Peace - a common dream of Japan and Ukraine

Part 3. Did the twentieth century make people happier?

Dialogue 6. "Culture of War" and "culture of peace" in the nuclear age
Dialogue 7. Creation of happiness and the creation of civilization
Dialogue 8. Man and science in the XXI century

Part 4. The path to a global society with sustainable development  

Dialogue 9. Environmental education
Dialogue 10. To address global climate change

Part 5. Education of the person - responsibility for the future

Dialogue 11. For the happiness of children
Dialogue 12. University as the cradle of creative leaders
Dialogue 13. Renaissance education and "century of science"

Part 6. What to take in the twenty-first century?

Dialogue 14. Children of the Earth
Dialogue 15. The world is driven forward the hope and the will of the people
Dialogue 16. The Power of one is big and the combined power of many  is boundless

Part 7. Appeal to young

Dialogue 17. Space, nature and man
Dialogue 18. To nuclear-free world
Dialogue 19. Young readers for your future

From the biography Daisaku Ikeda
From the biography of Michael Zgurovsky
Notes
Afterword  of the co-authors