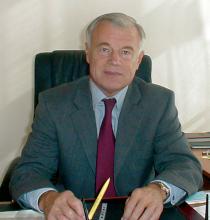 Yuri Ivanovich Yakymenko - Doctor of Technical Sciences, Professor, Academician of the National Academy of Sciences of Ukraine, Honored Researcher of Ukraine, laureate of the State Prize of Ukraine in Science i technology
He was born March 20, 1945 in Kyiv. In 1968 Yakymenko graduated from the Kiev Polytechnic Institute Faculty of Radio Electronics and enrolled in graduate school.
With outstanding research ability and organizational skills, Yuri Ivanovich quickly found its niche in science. This niche - electronics - was at that time a young industry. He successfully defended his thesis and then his doctorate. Since 1972 Y.I. Yakymenko worked at Kiev Polytechnic Institute assistant, associate, professor. Subsequently headed the faculty of electronic engineering, from 1985 he was the Head of the department of microelectronics. From 1990 the scientist headed the Research Institute of Applied Electronics, and from 1992 became the first Rector of the National Technical University of Ukraine "KPI".
Yuri Ivanovich made a significant contribution to the electronics and computer science, training of highly qualified professionals to the industry. He created a scientific school of design piezoelectric and ferroelectric electrical appliances, electronic components and systems for power, made the fundamental design of a new class of microwave components, information systems and networks.
There are in the active of the scientist more than 250 scientific works, including 12 monographs and textbooks. He also holds 35 patents. Yuriy - chief editor of scientific and technical journal "Electronics and Communications", member of editorial boards or councils of scientific journals "Scientific news National Technical University of Ukraine" Kyiv Polytechnic Institute "" and "Control system and machines".
Professor Y. Yakymenko is a member of the State Prize Committee of Ukraine in Science and Technology, Deputy Chairman of the permanent Council of electronics with the Verkhovna Rada of Ukraine, Chairman of the Expert Council of the Higher Attestation Commission of electronics, radio and telecommunications, member of the State Accreditation Committee of Ukraine.
YI Yakymenko - member of several foreign academies, honorary member of the American Institute of Electronics and Electrical Engineers, Honored Researcher of Ukraine.
Achievements of noted scholar and teacher were awarded by: the Order of Friendship of Peoples, Order "For merits» III degree, medals. He is the winner of the State Prize of Ukraine in Science and Technology and Academic Prize of I.M.Frantsevich.