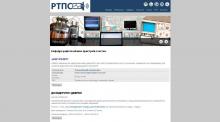 Address: Building 17, street Polytechnic 12, room 209, 03056, Kyiv, Ukraine
Telephone: 38 044 204 92 97
The chair was created in 1945 after division of the receiving-sending devices chair on two: radio-receiving and radio-transmitting devices ( now , the chair of radio engineering devices and systems ) (RTPS).
Well known scientific, corresponding member of Academy of Sciences USSR , professor Simeon Isaakovich Tetelbaum was the first chair head. After his death in 1958 the chair was headed by its pupil professor Vadim Pavlovich Taranenko, since 1998 the chair is headed by the professor Pravda V.I..
The chair is main on the bachelors, experts and masters training in the area of "Radio engineering" and provides teaching of 34 subject matters in the area of "Radio engineering" and «Radio-electronic devices». The principal objective of the curriculum of radio engineering bachelors preparation is the formation of system knowledge on signals generation , their gains, transmission on a radio channel and detection of the transmittable information. Necessity of an effective utilization of a spectral resource of the radio unit at the expense of magnification of information transmission rate and struggle against noises, the adaptive methods of multiplexing and information detection is conceptually underlined.
The 7.0907"radio engineering» training for experts (bachelors, experts, masters) is carried out on three specialties:
7.090701"radio engineering";
7.090702"radio-electronic devices, systems and complexes";
7.090703"Radio service, f broadcasting and television equipment ".
The first educational level is the bachelor after the four years for training.
The student receives the basic grounding. After protection of the degree project and obtaining of the bachelor diploma he may continue training on the expert (one year) or on the master (two years).
The expert acquires the expanded knowledge on practical radio engineering and prepares and protects the degree project.
The training for master's degree is directed on theoretical, scientific preparation in the field of radio engineering, physics, mathematics, computer science.
You can work:
in the national space agency of Ukraine, the Ukrainian Academy of Sciences
at the enterprises and in firms: ALKATEL, MOTOROLA, MINDSPEED, Ukrtelecom, the Ukrainian mobile communication, the Quasar-micro, the company of operators of mobile radio networks UMS, KIEVSTAR
in the broadcast and television companies of Ukraine
at scientific research institutes and designer establishments, educational institutions, at factories and joint ventures of various patterns of ownership
in the Ukraine security system , the Ministry of Internal Affairs, and the State customs control
Our graduates successfully work as experts in Germany, France, England, USA and other advanced countries