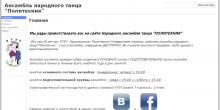 Leader: Zakharova Juliana S.
Phone: 0635191207
Schedule: Monday 19.00 - 21.00, Wednesday 19.00 - 21.00 Thursday 19.00 - 21.00, Saturday 15.00 - 20.00

The head of the preparatory group: Bezprozvana Victoria V.
Phone: 0936087414
Schedule: Monday 19.00 - 21.00, Wednesday 19.00 - 21.00, Saturday 15.00 - 20.00
Folk Dance Ensemble "Polytechnic" at the National Technical University of Ukraine "KPI" was founded in 1946. Over the years of its existance about 3,000 amateurs- most university students and teachers - were learning here the art of dance.
Artists of the ensemble received a large number of awards, diplomas and certificates. The team was a multiple winner of city and international festivals of amateur folk. In 1987, the ensemble won the II All-Union Festival of Folk Art, and the next team in 1988 was awarded the honorary title of "folk amateur dance collective ". During its existence the ensemble toured Bulgaria, Hungary, Czechoslovakia, the USA, Germany, Turkey, many cities of Ukraine.
Over the years of the Folk Dance Ensemble's existence, over 3000 amateurs - mostly students - learned here the art of dance. In 1988, the team was awarded the honorary national title. They were applauded by thousands and thousands of spectators, not only in their native Kyiv, in Ukraine, but everywhere where tour ways led: in Czechoslovakia, Hungary, Bulgaria, USA.
The program includes dances of different regions of Ukraine ("Festive Ukraine", "Mavka", "Kyiv Kozachok", "Arkan", "Gopak", etc.) and dances of the world nations ("Irish fantasy", "Sirtaki" "Aragon Jota", "Argentine Tango", etc.)
The ensemble is the winner of the International Festival "Badehursk Fall" (Poland, 1993), the International Festival "Lesyna pisnia" (1996), laureate and winner of festivals "Sergiivski Zori" (2001 and 2002), "Veselkova Terpsichora "(2003), 17th International Spring Festival in Ankara (Turkey, 2003), 4th international folklore festival "Compass Colours" (Germany, 2004), "Folklornyi dyvosvit" (Kyiv, 2004). The ensemble won the Competition of P. Virskyi among student groups in Kyiv (2002).
Artists appear on the scene again to convey to the audience the truth about loyalty and love for the native land and wealth of the human soul, eternal love. Meetings with the audience are joy and a great responsibility. Now, in the ensemble involved more than 60 students, professors and alumni of the National Technical University of Ukraine "KPI" who can ignite any audience with their art.
Ensemble "Polytechnic" invites boys and girls who know basics of choreography as well as those who wish to learn to dance.