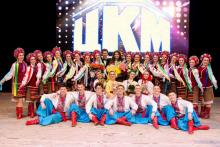 The Folk Dance Ensemble "Polytechnic" of the Art and Culture Center of the National Technical University of Ukraine "Igor Sikorsky Kyiv Polytechnic Institute" was founded in 1946.
During his existence, it made folk art famous in Ukraine and beyond.
Uliana Serhiyivna Boichenko is the artistic director and chief choreographer of the Folk Dance Ensemble "Polytechnic". She completely renewed the repertoire of the art and performance company. Every year, the ensemble wins prizes at the City Folk Art Show Contest, and the Pavlo Virsky All-Ukrainian Folk Choreography Festival Contest. In 2016, a solo concert of the ensemble was held on the occasion of the 70th anniversary of its foundation and the title of a People's ensemble was confirmed; in April 2018, a report concert was held. The members and leaders of the ensemble constantly experiment, and now the program includes not only folk dances, but also classical and modern ones (contemporary, Afro-jazz). "Polytechnic" visited Poland (7 times), Bulgaria, Italy, Czech Republic, Germany, Switzerland, Liechtenstein, France with concerts.
The ensemble was awarded commendation and certificates of acknowledgement for creative activity, consummate professionalism and significant contribution to the development of choreography time and time again.
Artistic directors are Uliana Boychenko and Dmytro Bakun