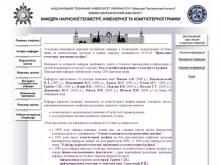 Address: 7 AB, Peremohy Avenue, 37k, k.815, 03056, Kyiv, Ukraine
Phone: 38 044 204 94 46
The main focus of research is geometric modeling of objects, phenomena and technological processes within the framework of a scientific specialty 05.01.01: "Applied geometry, engineering graphics".
Faculty lecturers and graduate students take part in many international conferences on applied geometry, including The 10th World conference on geometry and graphics. There are more than 1200 scientific publications issued by our department staff at the moment.
The department trained 15 PhD: A.V. Pavlov (1966), V.I. Korabelsky (1987), V.A. Nadolynny (1989), Y.I. Badaev (1991), M.S. Gumen (1992), S.M. Gribov (1995), V.V. Vanin (1996), E.V. Martin (2000), G.G. Vlasyuk (2000), Y.A. Doroshenko (2002), V.P. Yurchuk (2002), V.P. Shepel (2004), Vetohin W. (2010)., Virchenko G. (2011), Gumen O. (2011) and more than 45 candidates.
The main purpose of our department is teaching engineering graphics courses as well as impart and improve such students skills as the following:
geometric modeling of technical objects and their parameterization;
typical elements of technical objects design.
The number of our educational courses has been constantly increasing. Since 1968 a unique course "Basics of art design (styling)" has being taught for the senior courses students of six design specialized faculties.
Starting from 1991 computer graphics courses based on various graphics software applications have been conducted by almost all the faculties of KPI, and from 1992 the department was named as "Department of descriptive geometry, engineering and computer graphics".
Since 1996, our department became the part of physics and mathematics faculty, and, in addition to traditional courses, it's lecturers conduct for students the following courses:
Informatics
Differential geometry and topology
Informatics teaching methodology
Computer design methodology