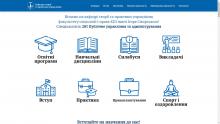 Department of Theory and Practice Management Faculty of Sociology and Law was established by order of the rector №1-207 of July 8, 2013.
The Department conducts training and educational and methodical work on specialty 074 "Public Management and Administration" and also carries out scientific, research and international activities in the field of management. The educational process at the Department is based on compliance with applicable laws and regulatory acts in the field of higher education.
The Department is constantly conferences, competitions, supervises students and graduate students.
Currently the Department has 15 teaching staff: professors – 4; associate professors – 5; senior teachers – 2; teachers – 4.
The educational process at the Department of Theory and Practice Management organized taking into account possibilities of modern information technology training and focuses on the formation of an educated, harmoniously developed personality capable of continuous updating of scientific knowledge, professional mobility and quick adaptation to changes and development in the cultural sphere, in the fields of engineering, technology, management systems and work organization in a market economy.
The staff of the Department of Theory and Practice Management is trying to do whatever it creates the right conditions for learning and rest so that students always feel part of a large and friendly family "KPI"