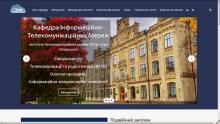 Department of Information Communications Networks (ITM) trains in direction "Telecommunications" in specialty "Information Communication Networks":
Bachelors, who receive basic higher education qualification "Bachelor of Telecommunications" (term of study 3 years 10 months);
Specialists, qualification "Telecommunication Engineer" (term of study 1 year 6 months);
Masters, qualification "Master in Telecommunications" (term of study 1 year 10 months). Specialty education form full-time learning, correspondence learning.
The Department of Information and Telecommunication Networks was founded by order of the Rector of "KPI" № 1-89 from July 5, 2004 in the Institute of Telecommunication Systems. Professionals in 6.050903 "Telecommunications" specialty "Telecommunication systems and Networks" are trained in the Department of ITN which was granted level IV accreditation.
Information and software means of telecommunications networks are studied within the specialty:
- Internet, Intranet-technologies;
- Networking Technologies;
- Technology for building platform service carriers and service providers, including modern technologies of Web-services, Cloud-computing, Grid, etc.
Interdisciplinary Postgraduate Institute "KPI" offers training in "Communication Networks" to get the second Bachelor's degree with related specialization in 2 years training.
The department provides training as part of the "Double Degree" diploma in cooperation with the Technical University of Dresden (Germany) for the second higher educational program "Engineering of Distributed Systems".
The department cooperates with leading companies including: "Ukrtelecom", "Kyivstar", "MTS", "Astelit", "Huawei Technologies", "Ukrkosmos" and others. Organizations engaged in development and implementation of software support performance networks include "Microsoft", "EPAM", "INCOM ", "LuxSoft", "Google" and others. The people who have graduated from the Department of Information and Telecommunication Networks work in these companies and organizations.