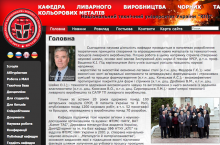 Address: 03056, Kyiv - 56 st. Polytechnique 35, block 9
Telephones: 0 (44) 204-82-19
The department of foundry of ferrous and nonferrous metals carries out preparation of specialists after specializations:
Computerized casting processes
Artistic and jewelry casting
Our graduating students already work on many enterprises and firms. The program of studies on speciality consists of fundamental bachelor and master''s degree preparation and complex of interesting modern disciplines:
Bases of fine art.
Metallurgy of noble metals.
Materyallovedenye materials in prosthesis.
Threw, alloys and technologies of making of artistic and jeweller wares.
Computer technologies.
The best students are in a position to complete studies in Germany and get two diplomas about higher education. The acquired knowledges and practical skills will allow you to found own business.
Form of studies is daily and without tearing off from production for facilities of the state budget of Ukraine and physical entities legal and.
A department prepares specialists on development of new materials, наукоємних technologies of their receipt and формоутворення, determination of properties of materials and estimation of quality of the prepared products, automation of technological processes with the use of modern facilities of the computing engineering and information technologies.
Terms of studies: bachelor – 4 years; master''s degree – 2 years.
The graduating students of department work in establishments of НАН of Ukraine, of particular a branch research establishments, project-designer institutes, organizations and on the enterprises of practically all industries of industry, that produce details for machines and mechanisms from metals and alloys.