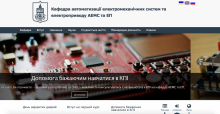 The department trains Bachelors, Specialists and Masters of full time, part time and accelerated education in "Automation of electromechanical systems and the electric drive " major - one of the most competitive majors among technical schools of Ukraine in the field of "ELECTROMECHANICS". The training of professionals is based on computer technologies implementation in the field of cybernetic and regular electromechanical systems of automatic operation of machinery, facilities, processes (general items) and automatic electric drive. The department has obtained the highest ІV level of accreditation and carries out training of postgraduates in two majors.
The major graduates are trained for design, research and operation of electromechanical systems of automation in different industrial sectors, transport, agriculture and other spheres of activity in the field of electromechanical systems of automation of general industrial mechanisms and electromechatronic systems of automation (systems based on electromechanic devices with computer control)
Around 2/3 of the world produced electric energy is transferred by means of electromechanical systems of automation and electric drives into mechanical motion energy of multiple objects in widest spheres of human activity. Complication of tasks of their motion control requires implementation of new theoretical methods (including cybernetics) and artificial intellect electromechanical systems of automation.
The Department owns 10 modernly designed academic technical laboratories. All the department's professors possess academic degrees: 4 Doctors of Engineering and 14 candidates of science.
The department is greatly proud of its graduates, among which are the President of the National Academy of Sciences of Ukraine academician B.Paton, academician S.Svechnikov, members-reporters І. Volkov, C.Samofalov, V.Tonkal, many Doctors of Engineering and candidates of science, ministers, CEOs of industrial mergers, enterprises, plants, etc.