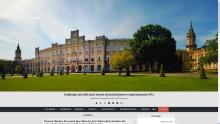 Department of English for Humanities 3 was organized in 2006.The head of the department is Candidate of Pedagogic Sciences, Associate Professor Iryna Simkova.
The staff do research and teaching at 9 faculties / institutes Igor Sikorsky Kyiv Polytechnic Institute. The department provides teaching "English", "English for professional communication", "English for Master Degree", "English for Scientists".
The main directions of the department are:
High-quality innovative teaching students technical and humanities oriented English;
Providing advice to students for preparation to participate in student competitions and conferences;
Developing of curricula and teaching materials.
Teachers of the department are actively engaged in the developing methods of modern teachingtechnical and humanities oriented English and improve their skills, complete internships in other leading universities of Ukraine, the British Council and American organizations for Languages.
All teachers constantly take part in methodological conferences of the department, national and international seminars and conferences. Teachers are actively working on compiling textbooks, manuals, frequency dictionaries and guidelines. Every year the quantity of material issued by staff of the department increases and so does the number of graduate students and applicants.